Our First Take
In the world of photography, Leica Camera AG is a name synonymous with quality, precision, and luxury. Every camera and lens Leica makes is dedicated to not only capturing the perfect shot, but immersing the photographer in the experience of making an image. Leica cameras don't autofocus, they don't have scene modes or picture effects, and their menus are best avoided in favor of the ample physical controls.
It's a little odd, then, that the company likes to take Panasonic point-and-shoots, slap a Leica dot on them, and throw them back on the shelf at drastically higher prices.
The Leica C (MSRP $699) is the latest camera to be co-opted by the storied German firm. Unlike the recent D-Lux 6 (a rebadged Panasonic Lumix LX7), the C isn't based on a particularly good camera. Under its admittedly handsome skin, the C is simply a retread of the $499 Lumix LF1—a pocketable long-zoom camera we were less than impressed with earlier this summer.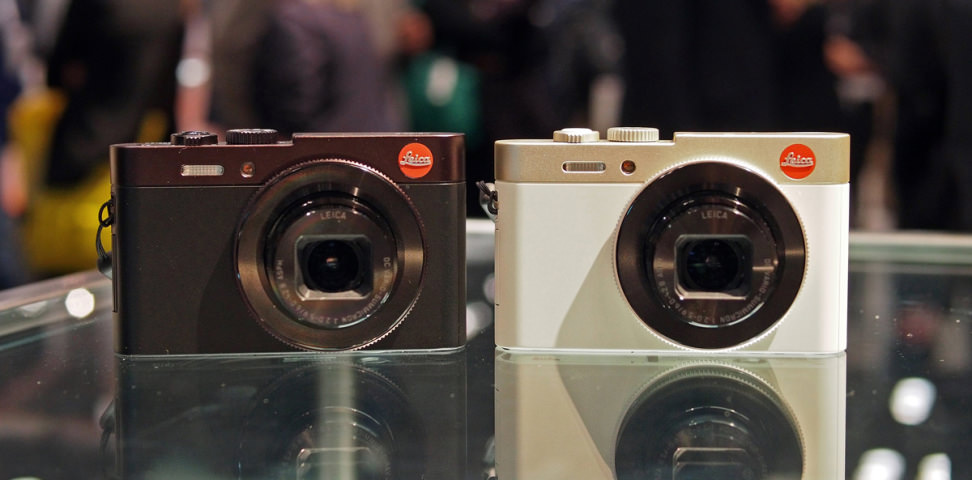 Design & Usability
A more fashionable take on Panasonic's compact formula
The Leica C's exterior styling is really its biggest difference from the Panasonic Lumix LF1. We criticized the LF1 for being "another boring black box," and the C is definitely anything but. You can buy the Leica in your choice of a pair of two-tone finishes: light gold and silver (no word on whether Jony Ive was involved), or burgundy and black. And of course you also get the iconic red dot.
The Leica C's exterior styling is really its biggest difference from the Panasonic Lumix LF1.
Tweet It
Leica claims the C was designed by Audi, but we're not seeing much of the automotive giant's input in the camera's appearance. It still looks like an LF1—it's just got a nice coat of paint, new buttons, and a new font. The rear thumb rest has also been tweaked: the LF1's raised, rubberized lip replaced with a trio of indented lines. Both are equally unhelpful, so it's a zero-sum game. The menus look different, too, in keeping with Leica's way of doing things.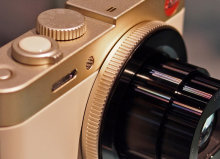 As you'd expect, the Leica C is every bit as well-built as the Lumix LF1, with the metallic exterior giving it a sense of solidity unusual in this sort of compact camera. The buttons and dials have a pleasant tactility, and the click-stop control ring around the lens still feels great.
On the whole, this is a very usable camera, thanks in large part to the lens ring and function button (though neither of the controls is as customizable as it ought to be). The tiny, low-res (200k-dot) electronic viewfinder is just as underwhelming as it was on the LF1, but it's still a nice thing to have when you're shooting in bright sunlight. Leica has also provided a marginally deeper eye shade for the EVF, which should help isolate that little monitor from errant rays.
Advertisement - Continue Reading Below
Features
Hey, free Lightroom!
As far as the spec list goes, the Leica C is a carbon copy of the Lumix LF1. On the inside, that means you get the same 1/1.7-inch, 12.1-megapixel CMOS sensor, the same 28-200mm equivalent lens, and the same f/2-5.9 aperture range.
Those specs are pretty impressive for such a small camera, but don't get too excited: Our lab testing and experience in the field showed that the LF1's optical performance was somewhat compromised by excessive aberrations at full wide angle, and the camera wasn't nearly as impressive as the cheaper LX7 across the board. We don't expect anything different from the Leica C.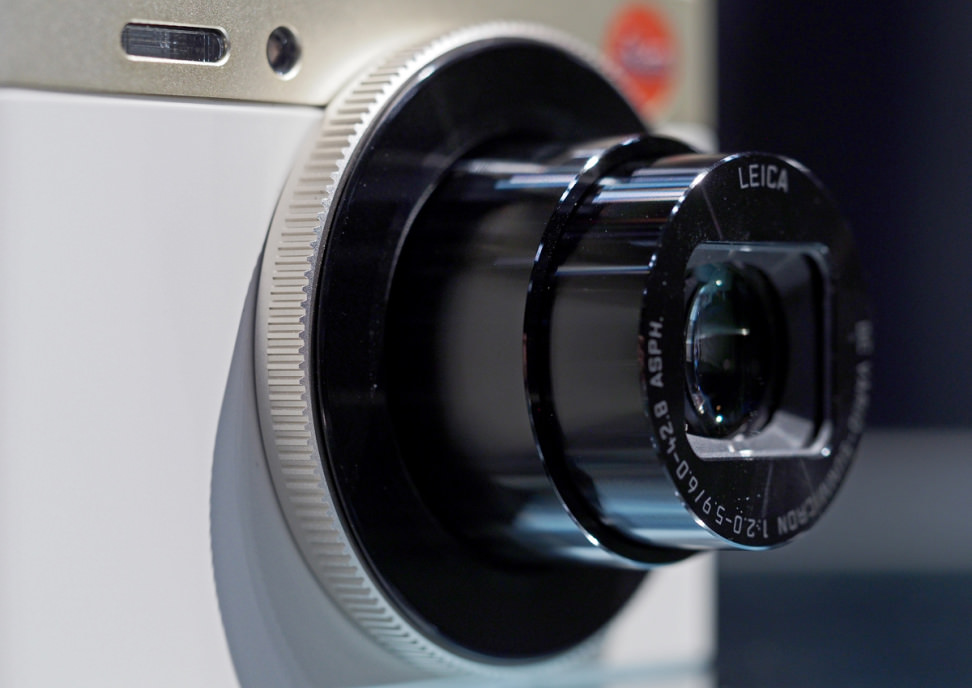 That said, Leica has been known to tweak its cameras' JPEG processing for more natural, less artificially enhanced results. For the right user, those changes might make an appreciable difference, and could make the C a better buy than the LF1. RAW files from the two cameras ought to be identical, but even here Leica has a trick in its bag.
One of the key advantages to picking the Leica C over the Lumix LF1 is that your purchase includes a copy of Adobe Lightroom 5.
Tweet It
One of the key advantages to picking the Leica C over the Lumix LF1 is that your purchase includes a copy of Adobe Lightroom 5. For people who like to shoot RAW, that's a real bonus; Lightroom is easily the most popular RAW developing software around, and it ain't cheap at an MSRP of $149. If you're not shooting RAW, you really should be, and a free copy of Lightroom is a great kick in the pants to get you started.
The Leica C also inherits all the extra hardware and software goodies that Panasonic packed into the LF1, like built-in WiFi and NFC connectivity, 1080/30p video capability, simplified quick and main menus, and in-camera creative controls. The C gives advanced photographers some room to use their know-how, but it's also a camera you can hand to a know-nothing and expect they'll get decent results.
Conclusion
A surprisingly affordable way to get that red dot
Like the LF1, the Leica C occupies an unusual position in the advanced compact market. It's a pocket cam, like the Canon PowerShot S120 and Fujifilm XQ1, but it has a longer (7.1x) zoom like the much larger Nikon Coolpix P7800. That combination of small size and long reach is very attractive to a lot of buyers, as is the excellent build quality and intuitive user interface.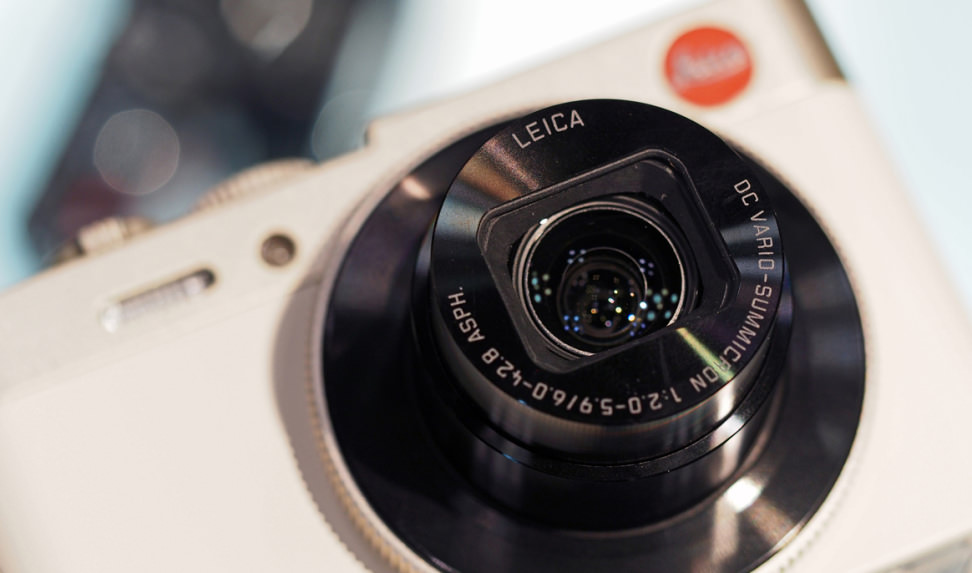 The problem is, the images we got from the LF1 simply weren't as good as comparable shots from the LX7 and other high-end point-and-shoots with more conservative zooms. In cramming that kind of magnifying power into such a small space, Panasonic and Leica compromised image quality—and that's something we have a hard time getting past.
But while the Lumix LF1 isn't one of our favorite advanced compacts, we think Leica's take on the camera is actually quite charming. There's no denying that the styling is far more elegant, and the pricing is surprisingly restrained. Sure, a $200 jump is substantial when you're talking about a $500 camera, but you also get a $150 piece of essential software. Leica often charges more than double for its red dot, which makes the C a relative bargain.
Our editors review and recommend products to help you buy the stuff you need. If you make a purchase by clicking one of our links, we may earn a small share of the revenue. Our picks and opinions are independent from any business incentives.