Design & Usability
We know this much: Medium-format cameras like the H5D are designed for slow-moving, deliberate scenes, like posing models (fashion) or inanimate objects (architecture, fine art, and archival work)—nothing remotely approaching action.
So it's probably OK that the the H5D is built like a brick, um... outhouse. Medium-format sensors are huge—32.9 x 43.8mm in the 50-megapixel version of the H5D that we handled, or more than double the surface area of a full-frame DSLR sensor—so the camera bodies are destined to look and handle like small appliances. It's as blocky as a VHS video camera, and probably heavier. It has a pistol-grip handle on the right side and a big, comfortable optical viewfinder with 3.1x magnification. Even with those "ergonomic" features, this thing isn't meant to be hand-held for quick shots from the hip or carried around all day on your shoulder. But for what it's worth, the build quality seemed great.
It's also probably OK that the user interface is clunky and unintuitive, at least to an SLR user. We were told that the H5D-50 on display at the show is a prototype, and isn't totally representative of the final product. But there's no way that Hasselblad can smooth out the menu design or improve the slow shot-to-shot speeds enough to fundamentally change the experience—and they don't intend to. Sure, the H5D will mostly be shooting fixed or slow-moving targets, but even if you're taking pictures of continents drifting, we have to believe most users would want a slicker control scheme. We walked upstairs to the Pentax booth to check out the 645D after our Hasselblad visit, and confirmed that not all medium-format cameras are as awkward as the H5D.
Features
The main selling point of any medium format camera is the amazing image quality. We obviously couldn't test IQ according to our lab standards on the Photokina floor, but Hasselblad had a monitor on the display case that was showing off images taken with the H5D. The level of detail was phenomenal. Of course they were professionally lit and professionally shot. But at full size, individual eyebrow hairs were sharp. RAW files are about 65MB apiece out of the H5D; compare that to 40-45MB RAW files out of the 36-megapixel Nikon D800 full-frame DSLR. In short, you're gonna need a bigger Compact Flash card.
Apparently the H5D improves upon its predecessor with better weatherproofing and autofocus, but like we said, we never used the H4D. So we'll take Hasselblad's word for it.
Our staff had a good laugh about how average the H5D would look in our ranking system. It'd easily have the best resolution and noise scores in our entire database—by a long shot. But with slow shot-to-shot times, a clunky interface, awkward handling, and no consumer-oriented shooting modes, it'd probably couldn't hang with all-around performers like the Nikon D4 and Canon 1D X, which are currently tied for the top spot in our rankings. If nothing else, that should give you some perspective as to why we don't review medium-format cameras.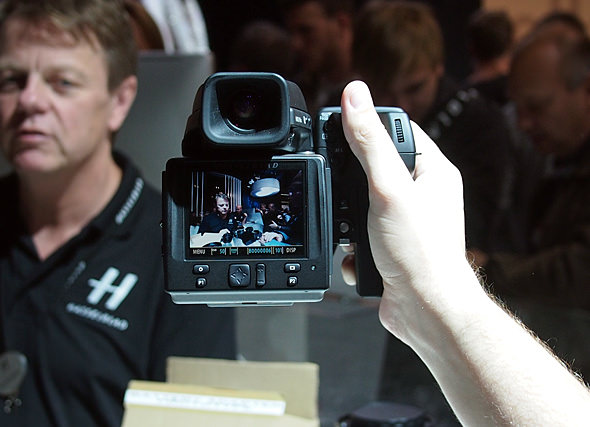 Advertisement - Continue Reading Below
Conclusion
Can we tell you if the H5D is a good medium-format camera? No, not really, and especially not based on a peek at a prototype on the floor of a crowded trade show. But we can tell you this: If you're like most enthusiast photographers, the H5D is not the right camera. Even if money is no concern, the H5D is too big and bulky and awkward to carry around like an SLR kit. Even shooters accustomed to carrying beastly full-frame models like the Nikon D4 or Canon 1D X with their big full-frame lenses would struggle with the H5D.
The top-flight image quality might be tempting, but when was the last time you thought your D700 or 5D Mark II just couldn't cut it? The H5D is just too specialized to be practical for most photographers. We'll let you know in two years if anything changes.
Introduction
Let's start out by noting that this website never covers Hasselblad cameras. The cheapest version of their new H5D medium format digital camera will cost 13,000 Euros when it arrives this December, and the theme at their Photokina booth might as well have been Things You Can't Afford—they seriously had a Ferrari parked next to their display case. Hasselblad H-series cameras are simply out of the price range of most of our readers. Pros know why they need one without hearing it from a consumer-oriented site, and rich enthusiasts usually just go with high-end DSLRs.
But Photokina only comes once every two years, and we don't get to see anything like the H5D very often. Curiosity led us to the Hasselblad booth, which we approached as well-traveled DSLR users. We've never tested any medium-format camera of any brand, and none of us really have any practical experience with one, so humor us while we think out loud.
Our editors review and recommend products to help you buy the stuff you need. If you make a purchase by clicking one of our links, we may earn a small share of the revenue. Our picks and opinions are independent from any business incentives.