cameras
Fujifilm X20 Digital Camera Review
Fujifilm's X10 followup is more refresh than reboot.
$599.99 MSRP
Buy now at Amazon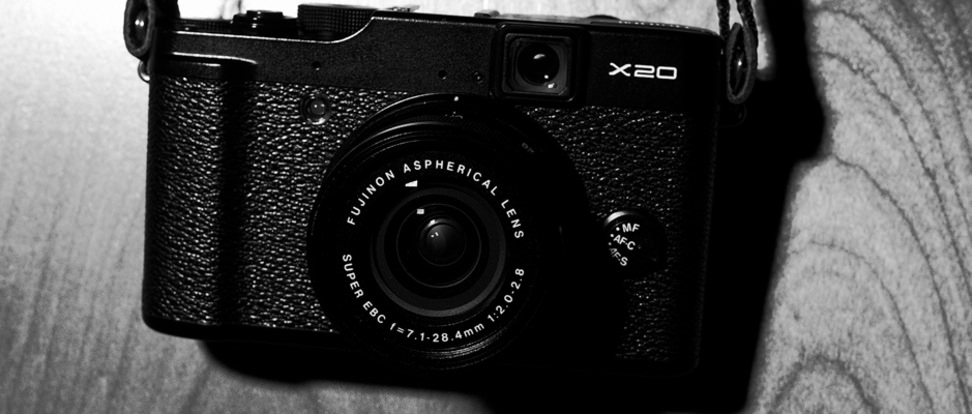 By the Numbers
Each camera that we review is subject to a battery of laboratory tests, including sharpness, color accuracy, noise reduction, video quality, and white balance. In general, the Fujifilm X20 (MSRP $599.99) was a competent performer, but there were a few standout results. For instance, color accuracy was far from perfect, for reasons we'll detail below. And while we were pleased with the camera's noise control (and especially its wide range of noise reduction settings), we were disappointed by its video and white balance performance.
Color
The X20 bombed our color accuracy test. But, frankly, we expected as much—this little camera's mission isn't to be a cold, technically precise imaging machine. Instead, Fujifilm has tuned the X20 for maximum nostalgia, trying to give your photos the look of the company's own classic film formulations. In that vein, the X20's film simulation modes are named after Velvia, Provia, and Astia—some of Fujifilm's most famous 35mm stocks. While Velvia and Provia are both tuned to boost and exaggerate color, Astia is best suited for portraits because of its softness.
The X20's most accurate film simulation mode is Pro Neg High, which is designed to mimic professional color negative film. We found this mode was slightly undersaturated from ideal at 98.3, and it registered a ∆C saturation-adjusted average error of 3.56.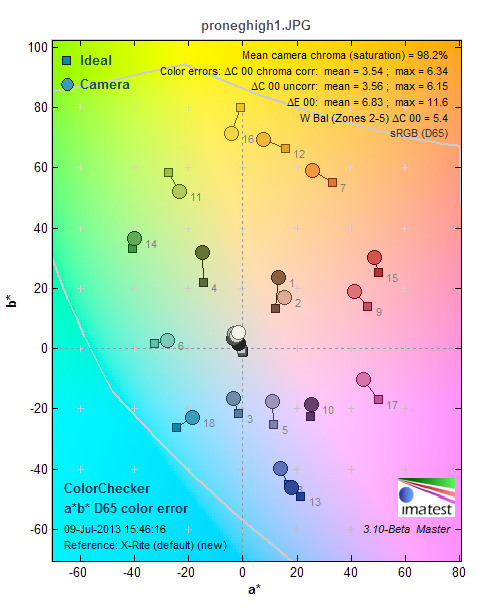 ISO & Noise
The X20 brings a wide range of full-resolution ISO settings, unlike the X10. While the X10 doubled up sensor sites to extend sensitivity, that trickery came at a resolution penalty. With the X20's new X-Trans sensor, we finally get full shooting all the way up to ISO 12800. That's good and all, but there's still a pretty big catch. Higher ISOs are essentially unusable, obliterating detail and exhibiting heavy banding as early as ISO 6400. It's better to set the X20's auto-ISO cap at 800 unless you're shooting in some really dark places.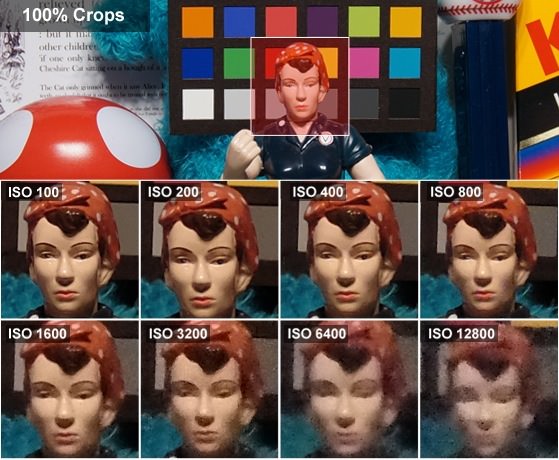 In our noise test, the X20 did a reasonable job of controlling noise. The X20 offers five noise reduction settings—two stronger and two weaker than the default. We use a benchmark of 2% noise to signify a printable image. The two stronger options are quite aggressive keeping noise under 2% all the way across the ISO spectrum, while the default allowed for 2.60% noise at 12800. When the lowest NR setting is used, noise tends to balloon to way over 2%, reaching past 3% at max ISO.
Comparable Products
Before you buy the Fujifilm X20, take a look at these other point & shoot cameras.
White Balance
White balance wasn't a particularly strong suit for the X20. Auto white balance performance in daylight and under florescent lighting was acceptable, if nothing to write home about. But, the X20 fell victim to the more difficult incandescent light test where auto white balance produced an ugly orange cast. We saw an average color temperature error of -2203 K under these conditions.

It's a good thing that this camera also comes armed with a full suite of manual white balance features. Not only can you fine-tune the auto white balance setting yourself, but you can also set your own color temperature and custom profiles. That's way more than what you get on many compact cameras, but just what we'd expect from an enthusiast-aimed model like this. Manual white balance settings were as accurate as you'd hope, with an average error of 233 K in the same tricky incandescent light.
Video
When we first got our hands on the X20, we were excited to try out its new 1080/60p default shooting mode. After some extensive testing, we can report that normal video playback looks plenty smooth. But, the X20 has a tendency to capture distracting moiré. We saw a similar phenomenon from the X100S, and we think it has something to do with the camera's downsampling algorithm. If you can ignore the moiré, there's tons of detail present in footage recorded under both bright and low lighting.
Low-light performance was a bit of a disappointment, as the camera required around 20 lux to create an acceptably bright (50 IRE on a waveform monitor) image. All in all, we'd not recommend choosing this camera for video; you're better off thinking of it as a freebie added to sweeten the pot.
Our editors review and recommend products to help you buy the stuff you need. If you make a purchase by clicking one of our links, we may earn a small share of the revenue. Our picks and opinions are independent from any business incentives.