Fujifilm FinePix Z30 First Impressions Digital Camera Review
We didn't go crazy over the Fujifilm Finepix Z30, but for a $180 low-end model that isn't very surprising.
Introduction
The Z30 is a very compact, fairly inexpensive, 10-megapixel point-and-shoot that will be available soon from Fujifilm for around $180. We got our hands on a bright orange model at PMA in Las Vegas and the little Z30 showed us a couple of surprises. The camera is loaded with automatic controls, playback effects, continuous shooting features, and numerous self-timer modes. It also has a 3x optical zoom and a fairly unique style that should generate significant buzz.
Sections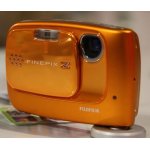 Be in the know! Get Reviewed.com news and reviews straight to your inbox.
Thanks for signing up!