Our First Take
We'd love to say Fujifilm's new XP70 waterproof compact puts the image quality of the company's top consumer point-and-shoots (like the XQ1) into a snorkel-friendly body, but we sadly cannot.
Instead the XP70 is a natural, naturally underwhelming rehash of the entry-level XP60. Buyers get an extra 10 feet to flipper after Nemo, plus WiFi connectivity, but otherwise it's the same: a 16-megapixel CMOS sensor, a 5x optical zoom, a 2.7-inch LCD, and an ISO range of 100–6400.
We got to spend some time with the newly announced XP70 at CES 2014, and though we sadly didn't have the opportunity to go diving with it, we were able to gather some first impressions nonetheless.
Design & Usability
A (too-) slick package
We mostly like to stay dry here at Reviewed. However, were we to take this camera for a dip we'd expect a little more grip than its glossy shell offers.
Maybe it doesn't matter, as you'd likely have the camera strapped to your wrist whilst submerged, but the tiny amount of slightly texturized rubber feels lacking for a device being marketed as a take-with-you-on-your-action-vacation camera. Even dime-store Kodak disposables do better in this regard.
While we were handling the XP70, we couldn't help but notice that the lens—positioned in top left corner—easily gets covered by a stray finger. While you'd probably learn quickly to keep your digits out of frame, it would certainly be annoying until you mastered the muscle memory.
One touch we did appreciate was the record button's placement right alongside the shutter release, which makes it extremely easy to jump into video at a moment's notice.
Tweet It
The controls are fine, if unremarkable. Unlike the lens, they don't get in the way, but they don't enhance the experience either. On the back, you've got your usual four-way pad, each button with its own alternative direct control function, plus a dedicated WiFi button and zoom toggles. One touch we did appreciate was the record button's placement right alongside the shutter release—it makes it extremely easy to jump into video at a moment's notice.
The glossy plastic shell, which comes in blue, orange, and yellow (unfortunately for us Celtics fans, Fujifilm purged the kelly green option) picks up finger prints easily and feels brittle despite the 5-foot shockproof labeling.
A clumsy add-on lens (the ACL-XP70, sold separately) extends the field of view from 28mm to 18mm equivalent. Curiously, it screws into the camera's tripod mount, rather than a filter mount on the lens (it doesn't have one), with an arm that brings the added glass up to cover the factory lens.
Features
A little more latitude for skindivers
Erring on the spartan side, the XP70's feature set isn't exactly robust but won't leave most users wanting.
As with its other toughcams, Fujifilm touts the XP70 as being "4-way proof". That means it's dustproof, shockproof from 5 feet, waterproof to 33 feet, and freezeproof to 14 degrees Fahrenheit. So go ahead, take it camping, rafting, spelunking, whatever... just make sure there's action.
Speaking of action, the XP70 features two burst modes: one at 10 frames per second over a maximum ten seconds, and the other at 60 fps that requires a reduction in JPEG quality to 16:9 Small. In our limited show-floor testing, both of these really only worked well in brightly lit conditions.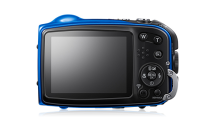 An HDMI port will allow consumers to play back the full-HD video (a feature carried over from the XP60) but with WiFi sharing capabilities we're not so sure that feature adds a whole lot.
The 16.4-megapixel 1/2.3" CMOS sensor is likely the same unit used on the XP70s predecessor, packaged with camera software that does 360-degree panorama and a collection of 10 effects. Those kinds of features (fisheye look, etc.) are a dime a dozen these days, but hugely popular with the smartphone photographers Fujifilm is trying to lure.
Given the kind of active user the XP70 is aimed at, optical image stabilization is a great inclusion. And in order to work with the camera's shockproofing, the lens is completely internal, meaning it doesn't extend when you zoom. That makes the camera quite a bit more compact than most similarly equipped non-waterproof options, though it likely produces tradeoffs in ultimate image quality.
Conclusion
A tepid update to the XP60
All in all, not much has changed since the XP60, aside from slightly tougher waterproofing specs and the addition of WiFi connectivity. It's a missed opportunity for Fujifilm to substantially improve upon this already rugged, handy machine.
All in all, not much has changed since the XP60.
Tweet It
You'll have to move a step up the ladder to the XP200 to get anything more, and even then you only get another 20 feet of diving depth and slightly larger LCD. In other words, the XP200 is attractive to the casual diver, as opposed to snorkelers.
The XP200 was our least-favorite waterproof option of last year, which leaves us naturally skeptical about the XP70. It's certainly an inexpensive option, but with prices on last year's tough champs (the Nikon Coolpix AW110 and Olympus TOUGH TG-2) dropping steadily, we're having a hard time coming up with a good reason to compromise for this new Fuji. We hope to have this little guy in our labs soon, though, so keep an eye out for full performance data and more impressions from the field.
Our editors review and recommend products to help you buy the stuff you need. If you make a purchase by clicking one of our links, we may earn a small share of the revenue. Our picks and opinions are independent from any business incentives.