Design & Usability
For the 24-720mm (equivalent) focal range that the SX500 IS offers, it's quite compact (check out our handling photos for context). Some folks may appreciate this, as it allows for excellent portability. But it also makes for some awkward handling—nothing too serious, but the design seems to generally favor function over feel. The control layout is similarly functional, with all of the buttons and dials falling under the right thumb and forefinger. The Canon-standard menu design is fluid and intuitive, and features such as the Enhanced Zoom Framing Assist button are sure to be a boon for amateur sports and wildlife photographers.
The 3-inch LCD screen is pretty much industry standard these days, but we imagine it might be a source of frustration when shooting outdoors, due to glare. An EVF would certainly help remedy this situation, and we certainly wouldn't mind seeing electronic viewfinders added to all of Canon's superzoom models, but we're not really holding our breaths waiting for it.
Features
Befitting its entry-level status, the SX500 IS offers just enough power to give aspiring photographers a step up toward the next product tier. The 16-megapixel sensor is pretty substantial for a $300 point-and-shoot, as is the 30x zoom. The ISO range is a bit limited at 100-1600, but for $300 you can only complain so much. The image quality appears to be good enough, and the focus tracking is impressive.
There are also a number of nifty scene modes that caught our attention. The coolest was probably Miniature Mode, which uses software-based tilt-shift emulation to blur the frame around an image, giving the subject a "miniature" look. This isn't exactly a unique feature, but it's fun to mess around with. The same goes for the fish-eye and toy camera effects. Buyers in this segment tend to love these kind of features, so we're happy to see them here. What's more, each scene mode can be used when shooting video, which is recorded at 30fps in either 720p or VGA resolution.
Expecting RAW capture capability on a $300 point-and-shoot might have been a bit much to ask, but it's worth noting that the SX500 IS's big brother, the SX50 HS, has it. And that model also comes with a greater range of manual image controls (ISO, aperture, shutter, and white balance), a longer zoom range, and an electronic viewfinder—all for just $150 more.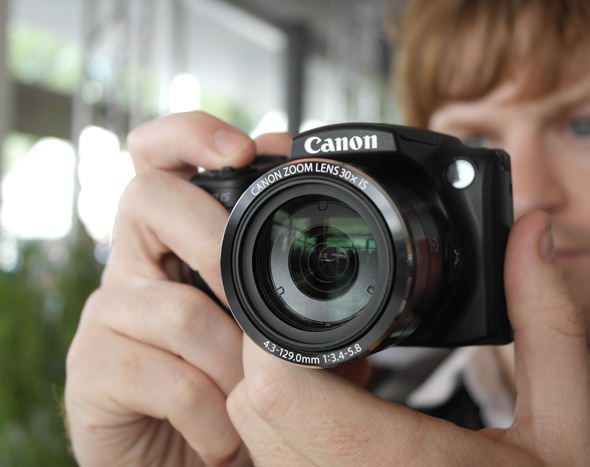 Conclusion
The SX500 IS is a fine addition to the Canon family. It's relatively cheap yet packed with some premium features, and compact yet sturdy. It's also pretty straightforward in terms of control, but features enough options to significantly manipulate your images in-camera. In general, it's a well-rounded and intuitive superzoom. The lack of a viewfinder is definitely a concern, especially given the highly reflective LCD display, so if you plan on shooting outside a lot you may want to look elsewhere.
When it comes down to it, the appeal of the SX500 IS is its price. If you're fine with a point-and-shoot that delivers solid image quality, some nifty features, and a 30x optical zoom, all for about $300, then the SX500 IS is a good deal. But if you're really looking to step up your photography game, we think you should be a bit more ambitious and go with the SX50 HS, or even an entry-level Micro Four Thirds model.
Introduction
Canon's entirely new SX500 IS adds a solid entry-level superzoom to the brand's already substantial PowerShot line. One of the company's more interesting point-and-shoots, the SX500 IS offers considerable versatility but is simple enough to satisfy novices, and even some enthusiasts looking for a more compact backup camera. It doesn't have the headline-grabbing specifications of some other PowerShots, such as the G15 or SX50 HS, but for a bit more than $300 it offers a compact and sturdy option for leisurely use.
Our editors review and recommend products to help you buy the stuff you need. If you make a purchase by clicking one of our links, we may earn a small share of the revenue. Our picks and opinions are independent from any business incentives.
Be in the know! Get Reviewed.com news and reviews straight to your inbox.
Thanks for signing up!