cameras
Canon PowerShot SX260 HS Review
Canon hopes to secure top honors as 2012's best travel-zoom camera.
$499.00 at Amazon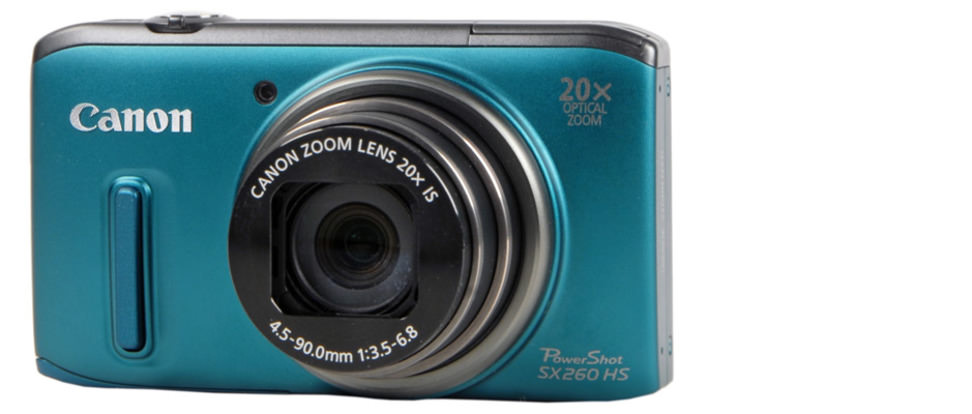 Introduction
Forgive us, but this has been sort of a weak year for travel-zoom cameras. Sticking a giant zoom on a lousy point-and-shoot doesn't improve anything, but manufacturers just keep squeezing ever more ambitious lenses onto the same tiny bodies. Go ahead! Zoom away! Zoom till you're blue in the face, but your photos will still look terrible if your camera is a piece of junk.
Canon's most expensive travel zoom, the SX260 HS, boasts one of the biggest numbers of all, with its huge 20x optical zoom ratio. But this model's CMOS image sensor tops out at only 12.1 megapixels, showing encouraging restraint on Canon's part. Our initial time with this model proved enjoyable. The camera is quick, compact, and comfortable, and our first look at the pictures felt promising. Only testing the SX260 HS will prove its mettle though, and it's our hope that its arrival will break the travel zoom segment's year of bad luck.
Design & Usability
Canon's PowerShot SX260 makes handling a real pleasure.
This little PowerShot offers all the flexibility we could want from a compact. On the front is a real handling bonus: a tall, skinny ergonomic strip juts slightly outward from the front plate, giving the fingers something sturdy to latch onto. We still prefer wider, rubberized surfaces at this position on small cameras, but Canon's technique here is still a decent way of lending some grip to the otherwise smooth camera body. On the back, the thumb naturally comes to rest beside the mode dial, which is rigid and textured.
Canon's tried and true button layout for compacts is used to great effect here.
Outside this fairly advanced camera is a simple, intuitive control interface, capped off by a full-featured mode dial and Canon's excellent tab-based menu system (complete with pop-up tooltips). Veterans and newcomers alike will find something to appreciate inside the SX260 HS. Canon's tried and true button layout for compacts is used to great effect here, keeping things clear and simple. Many of us favor Canon menu systems, and the SX260 is a good example of why we do. Shooting options are at your fingertips thanks to the quick Function menu. This interface is a simple crossbar arrangement that offers easy access to ISO options, white balance, metering, drive mode, etc. The software is fast and responsive too, we only wish the LCD had enough resolution to legibly display all the options at once, without scrolling.
Features
The PowerShot packs a power punch, with great video capability and other high-end goodies.
2012 has been the first year for which built-in GPS actually works correctly. The SX260's implementation is a good example of this. The GPS transceiver can tag data from each shot with geographic information, though it struggles quite a bit indoors. This camera is also a serviceable video device, producing sharp clips even in less than ideal light, and both automated and manual control are possible. Footage is sharp, but not always smooth, leaving unwanted grain in dark areas at times, but for a compact camera, this model is more sensitive than average in low light.
The SX260's editing suite offers less fun and games than some competitors.
Of the eleven scene modes, the most useful one has got to be High-speed Burst HQ, which allows full resolution bursts at 10 frames per second. Either that, or Low Light mode, which limits resolution to 3 megapixels, but unlocks ISO levels up to 6400. Picture effects are a little more goofy, with options such as Fish-eye, Miniature, and Toy Camera. The SX260's editing suite offers less fun and games than some competitors, but an extensive mode dial is found at the upper right corner of the rear plate with traditional "PASM" shooting modes and a slew of others. Notably, exposure has almost as much flexibility as you'd find on an SLR. All the priority modes are available and easy to use, though we're disappointed at the absence of program shift, and exposure compensation extends out to the traditional +/- 2 stops.
Though four aspect ratio options are available, RAW encoding is not. Substitutions include JPEG settings of either Fine or Super Fine. Some relatively advanced drive mode features decorate this compact camera. A typical full resolution continuous shot mode is available from the Function menu, and it quickly records data to the memory card so you won't run into capacity problems. Also, like high-end cameras, a continuous mode with autofocus is also available, which rapidly adjusts focus between individual shots—an impressive feature, even if it does slow things a bit. For even faster shot-to-shot speed, the High Quality Burst scene mode is capable of shorter full resolution bursts, however you'll need to swap modes to access the feature.
Comparable Products
Before you buy the Canon PowerShot SX260 HS, take a look at these other cameras.
Performance
The SX260 didn't trade image quality for big zoom like so many other models have done, but nor do we love this camera for its big zoom.
This PowerShot struggled now and again, but for the most part it delivered sharp, accurate photographs. The lens achieves genuinely sharp images, while the sensor reproduces accurate color with low noise. Few travel zooms can boast image quality like this one. We spotted plenty of artificial edge enhancement, which manifests in the form of too-dark and too-bright lines on high contrast edges. That being said, the SX260 is a genuinely sharp, even though the SX260 suffers the same fate as similar cameras when fully extended. Nevertheless, sharp shots are still possible at minimum and moderate zoom.
Color accuracy is above average, though not remarkably so. The camera's internal noise reduction software is highly aggressive and this has mixed results. At the lowest ISOs, 100 and 200, shots are largely free of noise, and image quality is in no way degraded. At ISO 400 and 800, noise levels are still pretty low, but smoothing software begins to affect the shot. Edges start to look pixelated at this point, and some details are lost in translation. At 1600 and above noise becomes noticeable, and although the smoothing software keeps things in check, shots are no longer suitable for cropping and should only be viewed in small sizes. The SX260's lens also produces some pretty bad fringing, and unfortunately the effect isn't limited to the edges of the frame. That's the price we pay for 20x zoom in a highly compact body. The lens' limited geometry can't line up all the different wavelengths across such a huge focal range in such a small space, and so annoying little bursts of light color pollute the image as a result.
On a few occasions, the camera missed focus when it shouldn't have.
All praise aside, the SX260 performed poorly in our new focus test—particularly in low light. On a few occasions, the camera missed focus when it shouldn't have, and once even committed the cardinal sin of missing focus but falsely reporting a lock. A dedicated macro focus mode is available from a menu hotkey, though it only works at certain focal lengths as indicated by an onscreen display. "By wire" manual focus is also available, along with some digital zoom assists. It doesn't work very well, but can be slightly useful in a pinch.
Conclusion
We haven't loved a travel zoom since 2011... until now.
Canon's SX260 HS has posted the best scores of any travel zoom camera that we've tested so far in 2012, and we think there's a pretty good chance it will carry this title all the way to our end of the year awards. But test scores aside, we really just enjoyed shooting with it. The camera is quick, compact, comfortable, and produces above-average photos in varying situations. This is an ideal travel companion.
This looks to be one of the most genuinely sharp cameras available above 10x optical zoom.
Too often, cameras like this are held back by their own design. Such complex, ambitious lenses have trouble resolving clean detail, so top cameras resort to digital compensation and enhancement. We're not saying the SX260 is free of such trickery, but this looks to be one of the most genuinely sharp cameras available above 10x optical zoom. This also happened to be the first fixed-lens camera we tested for dynamic range. It did pretty well actually, maintaining at least six full stops up to and including ISO 800—nothing SLR quality, obviously, but strong enough for most users. We also found noise reduction to be quite effective, especially below ISO 200. We wish the autofocus had done a better job in low light, and we wish the video was a little smoother too, but this is still doubtlessly a camera capable of capturing some beautiful shots.
We'd recommend this travel zoom over any other 2012 model we've reviewed thus far. We still reserve special praise for last year's Sony HX9V, but as that camera's availability declines, the SX260 is a worthy stand-in. For convenience and image quality, the Canon SX260 HS justifies every penny of its $350 price tag.
Our editors review and recommend products to help you buy the stuff you need. If you make a purchase by clicking one of our links, we may earn a small share of the revenue. Our picks and opinions are independent from any business incentives.