Design & Usability
The N is the first substantially redesigned PowerShot in several years.
Once you look at it, though, it's actually kind of like a regular ELPH with the sides broken off—or a MacBook power brick with a lens and screen. Typical design elements are missing, or at least altered beyond cursory recognition. It's honestly surprising to see so many new ideas in a new Canon camera, since the company tends to be so conservative in terms of design.
The dominant feature is a 2.8-inch touchscreen LCD that takes up the entire rear face of the camera. It's hinged at the top and can tilt up to 90 degrees for high- or low-angle shots—the N can sense when you're holding the camera upside down, and flips the screen orientation accordingly. The folding design also works to prop up the camera like an A-frame.
Check out the photos of the camera: Can you spot the shutter button? It's one of the lens "rings," except it doesn't rotate like an aperture ring or focus ring; it's really just a ring-shaped button. It works like any other shutter button, too. You just half-press to focus, full-press to shoot. The other, inner ring controls the zoom (8x optical, with stabilization), and moves about as much as a typical point-and-shoot zoom lever.
Speaking of trying to fix something that isn't broken, Canon is still trying to convince casual photographers to ditch their smartphone camera apps and buy real cameras with fake smartphone features. On the N, they're pushing wireless photo-sharing capabilities and the pseudo-Instagram Creative Shot mode. They sound nice in theory, but it shouldn't surprise anybody who's followed the push toward "connected cameras" that using them in real life ain't peaches and cream.
Features
Ignoring connectivity for a moment, the PowerShot N is about as easy to use as any good Canon ELPH from the past few years.
The N's touchscreen is a huge improvement over the panels in Canon's 2012 PowerShot models, so the menus are actually intuitive and responsive. It seems like the company's point-and-shoot engineers might have drawn some inspiration from the excellent touch interface on the upmarket Rebel T4i.
I had trouble wrapping my head around the dual-ring design before I handled the camera, but it made sense once I had it in my hands. Since the outer shutter ring is stationary and inner zoom ring moves, I didn't confuse the two. Does the new layout add anything to the user experience? Not really, except maybe for lefties. But it doesn't hurt, either.
Creative Shot mode worked pretty seamlessly—better I had than expected, anyway. Hit the shutter once, and the N creates six different photos using different color modes, crops, and filters. It'll use different settings based on the scene (indoor portraits vs. beachside landscapes, for example), as well. It's basically the N's auto mode, so most users will end up taking most of their photos this way.
Yes, it's kind of like Instagram. If you hate Instagram, you'll hate this feature. In fact, if you hate Instagram you'd probably hate a camera like the N anyway, so just move along. On the whole, the photos we snapped on the show floor looked pretty decent on the LCD; hopefully they'll hold up on a larger screen.
As for connectivity... well, at Canon's CES booth I couldn't get a feel for how the wireless features worked: there just wasn't enough time to tinker or set up my own mobile devices. Because the touchscreen is so vastly improved, the N is already better at wireless than the 2012 Canon ELPH models with WiFi—at the very least, typing a password no longer feels like trying to push tacks into a stone wall.
But the first thing that pops up when you hit the wireless hotkey on the side of the camera is a menu screen filled with numbers and jargon about access points and encryption keys. It's not exactly the most seamless experience. And anyway, most of the time you'll still need your smartphone to send photos to the cloud. So the obvious question is: Why wouldn't you just use your smartphone to take those photos? A real camera probably takes better pictures, sure, but that doesn't matter much when you're only viewing the photos on a phone, anyway.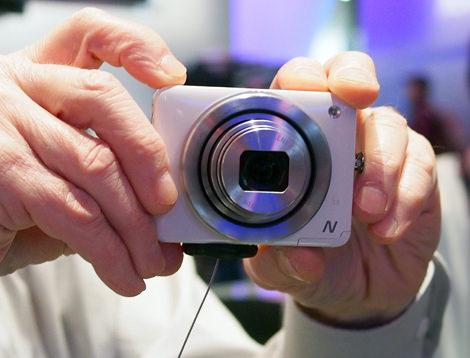 Advertisement - Continue Reading Below
Conclusion
We know enough about the PowerShot N to tell that it's not a terrible camera. It's more like a decent realization of a dumb idea.
At its core, the N is just a capital-letters Cheap Point-and-Shoot with a wacky design. There is simply no good reason for a camera like this to have wireless connectivity if it can't handle sharing as seamlessly as a smartphone. The 4G-equipped Samsung Galaxy Camera is the only successful example we've seen so far, but it's a class up from the N in both price and features.
WiFi inevitably drives up a camera's cost, as does overwrought, underthought design. The result? The N isn't even cheap anymore—the $299 Canon is asking could buy you one of last year's high-end compacts (or even system cameras), or pay your smartphone bill for about 3 months.
Let's look at it another way: Smartphones are always in your pocket, and always connected to the internet. Point-and-shoots often stay at home, and only connect to the internet sometimes. Both take decent-enough pictures. Which one will you use most often?
There is no future for wireless point-and-shoots because there is no need for them. Could the camera industry please stop farting around in fantasyland?
Introduction
At CES 2013, we're seeing some obvious truths catch up with the camera industry—and at the same time, watching it create new illusions for itself. Smartphones have been choking demand for cheap, mass-produced compact cameras for years, but it's only now that we're seeing the major manufacturers scale back their numbers of low-end point-and-shoot offerings. Instead, we're seeing more and more "smart" cameras designed in the grand tradition of the great compromise: trying to please everyone and leaving all of them unhappy.
The PowerShot N is Canon's boldest move toward a future that just won't come to pass: a future where compact cameras can go toe-to-toe with mobile devices in terms of wireless connectivity. Internally, the N is basically a mid-range ELPH point-and-shoot (that's a good thing), but it sports a bizarre new design and features meant to outsmart smartphones. We checked out a pre-production version on the floor at CES.
Our editors review and recommend products to help you buy the stuff you need. If you make a purchase by clicking one of our links, we may earn a small share of the revenue. Our picks and opinions are independent from any business incentives.
Sections