Design & Usability
Of course, high-end glass is only worthwhile if the it's paired with a user-friendly shooting experience; this is an area in which the G15 does a good if imperfect job. We find Canon's menu system to be unmatched across the industry, and this goes a long way to providing a comfortable, efficient user interface. Beyond that, we still like the integrated optical viewfinder that the series has become known for, even if the lens barrel is visible at minimum focal length—and yes, even if the finder itself doesn't provide very accurate coverage. We also notice the designers have dropped the concentric mode / EV dial configuration found on the G12 and G1 X, instead separating out each dial individually and then partially overlapping them. It's a cool change stylistically, but doesn't make much of a difference usability-wise.
In fact, while there's plenty to like about the G15's mechanical control, a few handling problems made us worry. The body is smaller than, say, Nikon's P7700, and therefore the right hand grip is too small and shallow to easily latch onto. Once the camera is in-hand, the pointer finger needs to achieve a rather impossible angle to reach the front command dial. The shape and layout of the G15 make shooting with it a fairly cramped experience.
Features
On the plus side, one of the G15's most talked-about features is an improved contrast-detection autofocus system. We're happy to report it's working just as well as Canon claims. We're not talking Olympus Micro Four Thirds-level speeds here, but the system locks on more accurately and quickly than any other PowerShot we've used.
Another big-ticket item is the brand-new lens. Coming in at a maximum aperture of F1.8, it's the fastest lens we can recall in the history of Canon's PowerShot brand. Aperture isn't everything, but despite an unchanged sensor size, image quality seems—at first glance—to be better than Nikon's similar P7700, as well as Canon's own G1 X. That's not bad for $300 less than the company's own flagship fixed-lens compact.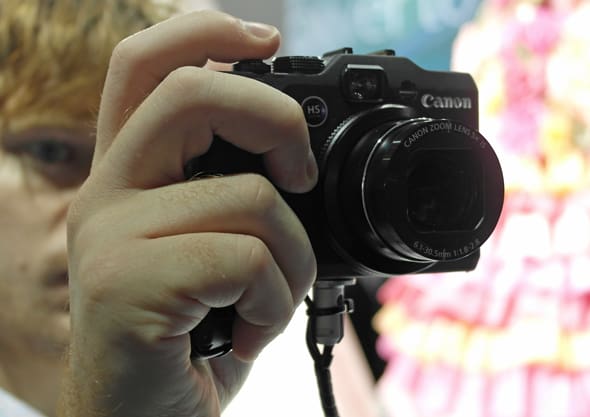 Conclusion
We think the G15 will produce better images than the Nikon P7700, but your purchase decision will likely depend on the same considerations that we mentioned in our P7700 First Impressions. Which is more important to you: image quality or usability? Although Canon's lens slightly outclasses Nikon here, design quirks are a real detriment to this camera. We really haven't used a Canon camera that fit so poorly in the hand for quite some time. Meanwhile, Nikon's mechanical controls are similar, but much more satisfying, especially for fans of the Nikon SLR control scheme.
Plus, for the near future of compact cameras, the elephant in the room is going to continue to be the Sony RX100. This pocket-sized powerhouse produces shots that are virtually DSLR-quality—quality far beyond the G15 capability—in a body that's actually pocketable. And it does all that for only $200 more than the G15. We think most people interested in an enthusiast compact will also be the ones willing to shell out the extra cash.
But again, if you're deciding between the Nikon P7700 and the Canon G15, our preliminary outlook is simply this: G15 for image quality and focus speed, P7700 for user experience.
Introduction
Ever since Canon sprouted a new branch off the G-series tree, in the form of their PowerShot G1 X, we've been asking ourselves what might be next for the main product line, which has endured for twelve years. It seems we finally have our answer: the G15.
Starting with the G7, cameras in this lineage have continued to evolve along a similar path aesthetically, but in recent years started heading in a slightly different direction with regard to optics. What was once a series defined by fast lenses and RAW shooting became a group characterized by just-above-average apertures and modest zooms. RAW shooting was added back in right after the G7, but we haven't seen a return to very bright lenses until now.
Our editors review and recommend products to help you buy the stuff you need. If you make a purchase by clicking one of our links, we may earn a small share of the revenue. Our picks and opinions are independent from any business incentives.