Our First Take
You get exactly what you'd expect from this $170 point-and-shoot: not much.
The Canon PowerShot ELPH 115 IS (MSRP $169.99) is one of the newest additions to the ELPH family, introduced alongside the marginally more impressive ELPH 330 HS here at CP+ 2013. The more apt comparison, though, is to the ELPH 130 IS that we previewed at CES 2013—it's the same camera, minus WiFi integration.
The 115 IS is an extremely basic point-and-shoot, pared down to just the essentials and targeting an absolute beginner—or at least someone not interested in spending much money on a camera. We've gone hands-on with the new pint-sized photographic tool to find out if it's worth your time.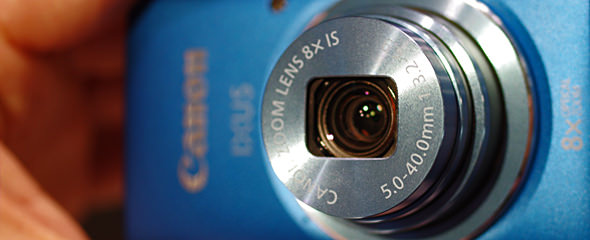 Design & Usability
It's a Canon PowerShot ELPH, through and through.
If you've used any other ELPH in the past couple years—for example, the ELPH 110 HS, our Best Value Point-and-Shoot of 2012—you know exactly what to expect from the ELPH 115 IS. If you haven't, well, here goes: it's a lightweight rectangle, a little larger than a business card, with a shutter button up top, a four-way pad on the back, and a couple of other buttons and switches. Sure, we just described pretty much every point-and-shoot ever, but that's just how anonymous this camera is.
Okay, maybe we're selling it a little short here. Canon's ELPHs have a knack for simple, clean design, and the ELPH 115 IS is no exception. The body is plastic, but coated with a slightly gritty matte finish that helps you keep a hold on the camera, despite the lack of a physical grip. The buttons have a pleasantly soft action with a hard stop at the end, and generally speaking the camera feels quite well put together.
There's a built-in flash, which is weak but still a nice thing to have when you're out partying or snapping pics while your nephew blows out his birthday candles. Around back, the screen is a little underwhelming at 2.7 inches and 230k dots, but it's good enough to ensure you got the framing right, at least. Probably the best thing about this camera is how small it is; at just 3.66 by 2.06 inches, and only 0.86 inches deep, it can fit in pretty much any pocket you've got.
Advertisement - Continue Reading Below
Features
Every single corner has been cut.
The ELPH 115 IS's 16-megapixel CCD sensor won't be winning any awards for cutting-edge design, and its ISO range of 100–1600 is laughably weak by contemporary compact camera standards, but it should still be capable of decent shots in good light. The sensor is also capable of recording 720p video at 30 frames per second; again, not exactly a headline spec, but it ticks the box.
With an 8x zoom ratio, the 28–224mm equivalent lens is probably one of the camera's best features, providing a useful walkaround focal range for everyday shooting. In our time with the camera we found its zooming action to be slightly slow, and the autofocus itself wasn't much faster. Still, for any subject other than fast-moving action the 115 IS's lens will probably serve you just fine. As the model name suggests, it's also stabilized, which should help the camera perform a bit better in dim light.
The user interface will be familiar to anyone who's handled a PowerShot recently: a two-tabbed menu with shooting options on one side and setup options on the other, as well as a function menu overlay for quick access to stuff like white balance, image size and quality, and color modes. Everything is automatic, though you can manually select scene modes if you like. There's nary a hint of manual shooting options here, but that's only to be expected given the price range.
Conclusion
If you have very low expectations for a digital camera, the ELPH 115 IS might suit your needs.
What can you really say about a camera like Canon's PowerShot ELPH 115 IS? This cheap point-and-shoot isn't really exciting in any notable way. It's tiny, extremely pocketable, relatively well-built, and very affordable, but that's about all it's got going for it. Canon's PowerShot lineup has always included such cameras, and they're great for a certain kind of user, but that user is rapidly disappearing as smartphones proliferate. We have to wonder how much longer they can possibly last.
Still, Canon's ELPH models have long been dependable paragons of low-end performance; even its CCD-equipped cameras can get the job done, provided the conditions aren't too strenuous. If you're looking for something simple and dependable to use as a go-everywhere, capture everything pocket companion, you could almost certainly do worse than the ELPH 115 IS.
Our editors review and recommend products to help you buy the stuff you need. If you make a purchase by clicking one of our links, we may earn a small share of the revenue. Our picks and opinions are independent from any business incentives.