Product Tour
Overview
The Canon A2100 IS has a few little design flourishes that set it apart from the crowd without looking gaudy in any way. The 12.1-megapixel A2100 measures 4.01 x 2.50 x 1.26 inches (101.9 x 63.5 x 31.9mm) and weighs 6.53 oz, (185g) , giving it a nice balance between easy portability andsubstantial surfaces to allow a firm grip.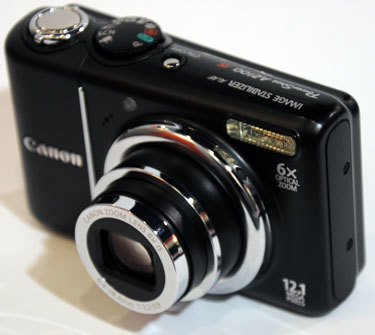 The A2100 has a sophisticated look in black with silver accents.
Front
The silver-ringed lens is the main feature on the A2100's face. Above it are the autofocus assist to the left and the flash to the right. If you're familiar with this series, you might notice that this is the first model that doesn't have a grip on its left side.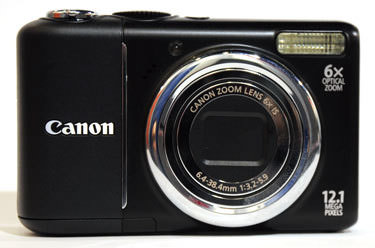 The thin metal divider to the left of the lens appears to be all that remains of the A2100's now-devolved grip.
Back
As is customary for point-and-shoot cameras, the back of the A2100 is mainly LCD. To the right of the screen is a vertical strip of controls. The top-most button will bring you to playback mode. The buttons orbiting the four-way control are facial recognition mode in the top left, a print/custom button in the top right, display on the bottom left, and menu on the bottom right. The five buttons that comprise the pad itself are: exposure compensation (top), macro mode (left), flash (right), self-timer (down), and function settings (center).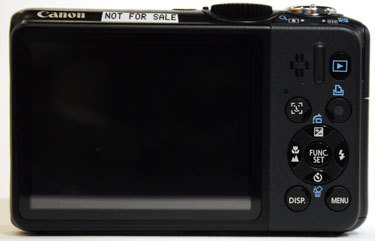 The speaker is placed in an unusually prominent position near the top.
Sides
The left side has only a few boring screws to hold your attention. The right side has the same number of boring screws, but it also throws in a wrist strap loop and covered USB port.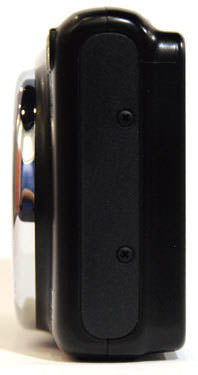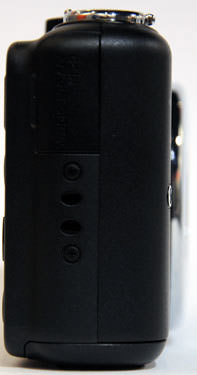 USB and wrist strap enthusiasts will find a lot more to like about the right side than the left.
Top
The top of the A2100 has no less than three lines of branding and is also NOT FOR SALE (this was a pre-production unit). The actual buttons occur to the right of the prolix branding, beginning with the on/off button. Next is the control dial, which lets you choose one of the following settings: program, automatic, easy mode, portrait, landscape, night shot, kids & pets, indoor, additional scene modes and movie. The last button is the shutter button, which sits atop its zoom ring throne.

The A2100 has the traditional zoom ring design, to allow easy access from the shutter button.
Bottom
The bottom of the A2100 has the same two features as just about every other point-and-shoot: a tripod socket and a hatch-covered cavity that holds its AA atteries and memory card.

The tripod socket is centered under the camera body rather than the lens.
Sections
Be in the know! Get Reviewed.com news and reviews straight to your inbox.
Thanks for signing up!