Our First Take
The 330 HS is an uninspiring update to Canon's midrange PowerShot lineup.
Ah, Canon PowerShots. While the world can often be confusing, full of frightening changes and tectonic shifts beneath our very feet, it's comforting to know one thing seems to never change: Canon's line of PowerShot cameras. Witness the ELPH 330 HS (MSRP $229.99), the latest midrange PowerShot to appear here at CP+ 2013.
The ELPH 330 HS is really just a small upgrade over previous 300-series ELPH cameras, with improved wireless connectivity options, a DIGIC 5 processor, and a run-of-the-mill combination of 10x optical zoom and 12-megapixel CMOS image sensor. The 330 HS will debut in March in black, silver, and pink colors.
Design & Usability
A pocketable body with a 10x zoom is complemented by a very familiar interface.
It's clear that Canon feels very comfortable with the current design of its PowerShot cameras, as the 330 HS does nothing to break the mold. The 330 HS feels almost exactly like the 320 HS in the hand, since it's made from the same slick plastic material as the rest of Canon's point-and-shoot line. There's no real grip to speak of, though Canon's raised logo on the front does provide enough traction to keep the camera securely in hand while shooting.
The back side is simple and sparsely peppered with buttons. There's a four-way directional pad with various functions mapped to it, along with a playback button, central OK key, dedicated video record button, and menu key. Canon has also repositioned the mode switch to where your thumb naturally rests, letting you switch between fully automatic and program auto modes quickly and easily.
The ELPH 330 HS lacks true manual control over most settings, though in program auto you can adjust a few options like ISO and exposure compensation. You can also switch over to a selection of scene modes, including high speed burst, miniature, color swap, and plenty of others. The camera is quite easy to use overall, especially if you're already comfortable with any Canon PowerShot from the last few years.
Advertisement - Continue Reading Below
Features
There's precious little that's new on the 330 HS, save for slightly improved WiFi functionality.
The Canon ELPH 330 HS comes with a variety of features, but few really set it apart from the pack. It combines a 10x optical zoom lens (maximum aperture range of f/3–6.9) with a 12-megapixel CMOS image sensor and DIGIC 5 processor. That combination allows you to shoot at ISO speeds ranging from 80-6400, with a maximum continuous burst speed of 6.2 frames per second. Unfortunately, Canon has again limited the fastest burst setting to a particular scene mode, which means if you want to just leave it in program auto you're left with a more pedestrian burst rate of 2.4fps.
You can frame shots using the 3-inch, 460k-dot rear LCD. It's neither articulated nor touch-enabled, but in our book that's not necessarily a black mark, since it keeps the cost down without taking much away from the experience. The 330 HS does also include a built-in flash, but it's rather weak with a guide number of just 13 feet and a recycle time of "10 seconds or less." Thanks, Canon.
The one feature that seems to have gotten most of Canon's attention this time around is wireless connectivity. It's certainly improved, but still not all that fluid. You can now upload photos directly to social networking sites and also leave comments, giving your pictures a little more context than previous models allowed. You can also select which groups have access to your photos, so your coworkers don't have to be exposed to the 500 cat photos you post every day.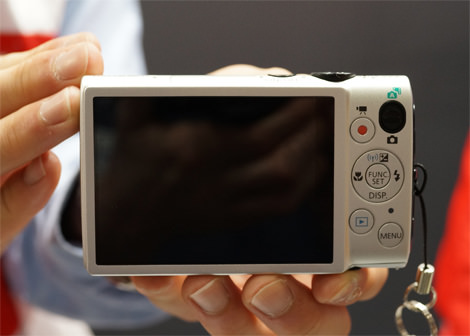 Conclusion
If you've got a working PowerShot from the last two years, the Canon 330 HS doesn't provide a compelling reason to upgrade.
The Canon 330 HS draws heavily from past Canon PowerShots to deliver a slim, pocketable camera with a respectable 10x optical zoom. The 330 HS benefits from only minute, iterative changes over previous ELPH models, providing little to no reason to upgrade if you've got a working model. For those with a camera on the fritz who want more zoom than a smartphone can deliver, the 330 HS is an attractive, slim option with a comfortably familiar interface.
Canon has definitely put some effort into upgrading the wireless capabilities here, but the camera's WiFi integration is still a stilted, forced experience that pales in comparison to what even the most basic smartphones offer. Canon has at least pushed the price down a bit, offering the 330 HS at an MSRP of $229.99 (down from the 320 HS's $249.99 MSRP). Still, that's a lot of money to put down for a dedicated point-and-shoot camera these days. Even at a slightly reduced MSRP, it's hard not to think the ELPH 330 HS is overpriced.
If you've loved a previous PowerShot and simply want a new one, the 330 HS is a perfectly fine option. We think you'd be better served by going with a slightly older (perhaps discounted) model, but if that's not an option for you, the ELPH 330 HS is a dependable fallback in an ever-shrinking market.
Our editors review and recommend products to help you buy the stuff you need. If you make a purchase by clicking one of our links, we may earn a small share of the revenue. Our picks and opinions are independent from any business incentives.