Sony Alpha NEX-F3
We were able to get our hands on a production-level NEX-F3 for some hands-on shooting time. Read on for a full breakdown and our impressions of the latest entry-level compact system camera.
Sony Alpha NEX-F3 First Impressions Review
$599.99
Menu
The menu on the NEX-F3 is exactly as it is on other NEX cameras. There's one main page that has access to the shooting modes, camera settings, video settings, setup, and brightness/color. The brightness/color page is the most interesting, but it's the most confusing as well, as it has several functions that are not really related to either brightness or color. All in all it's like any camera menu system—not perfect, but you get used to it quickly. If you are used to the NEX menu already, though, you'll feel right at home with the F3.
Ease of Use
The Sony NEX-F3 is quite easy to use, similar to previous NEX cameras. The camera features the usual list of shooting tips right in the menu, alongside the new superior auto+ mode that is designed to aid beginners. While the menu itself isn't as organized as on other Sony cameras, it's legible and rather simple to learn.
The one hitch with all NEX cameras that may hold up beginners is the unlabeled keys. With the camera off, you'd be hard pressed to figure out what anything on the camera does. Once you learn to look on the screen for the corresponding key labels, it's a pretty easy system. In addition, Sony also uses some simpler terminology and symbols for describing key functions. For example, aperture control is labeled as "defocus control", describing the effect that a large aperture has when shooting with the camera's APS-C image sensor.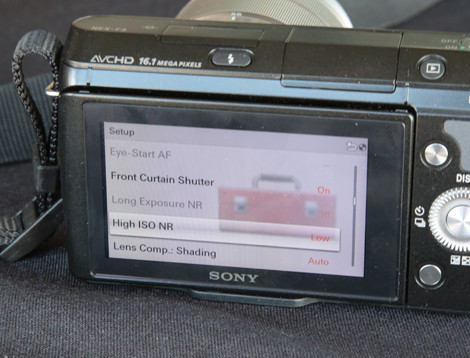 Size & Handling
The NEX-F3 is just slightly larger than the NEX-C3, with the most obvious difference being the greater protrusion of the grip. The camera itself, though, is quite small. If you separate the lens from the body, (or use the Sony pancake lens) it's possible to keep the F3 in a very small bag for travel. It's certainly among the smallest cameras you can carry that has a full APS-C image sensor, though it has traded a bit of size in order to enhance handling compared to the NEX-C3.
Sections