Sony Alpha NEX-6
Sony says their new NEX-6 won't replace the NEX-7, but it sure feels like it.
Sony Alpha NEX-6 First Impressions Review
$849.99
Better than
78%
of Reviewed Digital Cameras
Lens Mount & Sensor
The mount is just as sturdy and oversized as the rest of the series. Initially the NEX-6 will ship with the same 18-55mm kit lens as the NEX-5R, but later this year Sony will make a few other choices available. These will include a new variable speed power zoom at 16-50mm, which should be very useful for aspiring handheld videographers. Sony will also debut a 10-18mm wide angle zoom, as well as a 35mm F1.8 prime. All three of the aforementioned lenses will feature built-in optical stabilization.
LCD & Viewfinder
The rear tilting LCD is bright and can be viewed from an adequately wide angle. We liked this panel on the NEX-7, and still find it useful here, but some improvement would've been welcome too. For example, 90-degree upward tilt functionality is great for video, but the same ability would've been useful at the downward angle for overhead shots. We dare say a swing-out LCD would've been nice too, if it didn't add too much bulk.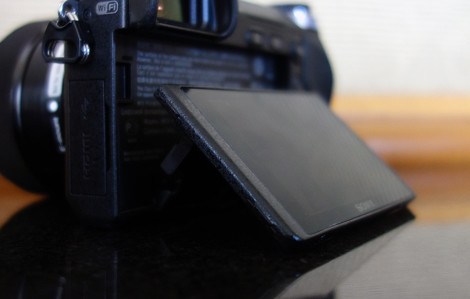 The NEX-6's OLED viewfinder is borrowed from the NEX-7, and has a resolution of 2,359,000 dots with 100% frame coverage. The screen is gorgeous and very responsive, with minimal—but still noticeable—delay of the onscreen image. The oversized eye cup does help to block out your surroundings and makes actually looking through the finder a little bit more comfortable.
Flash
The pop-up flash arm is rated to a guide number of 6, though recycle time was rather slow in our evaluation model. This is something that could change before release, so we'll have to wait and see.
Jacks, Ports & Plugs
Aside from the usual HDMI and USB 2.0 connectors (by the way, this camera is capable of charging via USB), the NEX-6 is equipped with a hot shoe mount for use with optional accessories. In a camera that shares many of the same components as the NEX-5R, this is one feature that sets the NEX-6 apart.
Battery
Memory
Other Hardware
WiFi
Like the NEX-5R, the NEX-6 will support b and g WiFi connectivity, and this should be useful mostly for loading new PlayMemories apps onto the camera. We're still getting used to seeing WiFi make its way onto cameras that aren't low-end, and we don't find the feature very compelling.
Sections