Sigma DP2 Merrill
A scientific, in-depth analysis with side-by-side comparisons.
Sigma DP2 Merrill First Impressions Review
Menu
The menu on the Sigma is nice and legible, with clearly organized tabs aligned horizontally across the top of the screen. The menu has color coordinated tabs for shooting settings, playback, and system settings, with multiple pages under each. The options are clearly laid out and it's easy to find the setting you're looking for.
The best thing about the menu is that the options are organized in short lists in each page, such that no options require scrolling all the way to the bottom of the screen, so it's easy to find your way around. It's an intelligent design that most camera manufacturers are beginning to adopt, though some still just have long lists.
Ease of Use
The DP2 Merrill isn't terribly difficult to use, with a menu and button layout that is simple to learn and navigate. The camera lacks a physical mode dial, but it has a dedicated button designed just for switching between the various shooting modes. The rear four-way control pad works great for changing modes or navigating through the menu, as well.
The best thing about the camera in terms of usability is the ability to set up various QS mode setups, which will let you redefine the function of the four-way directional keys. This lets you customize the function of all four keys any way that you like, with the option to save multiple control setups depending on who is using the camera or what kind of photos you are taking.
Size & Handling
The Sigma DP2 Merrill is fairly compact, especially for a camera with an APS-C image sensor included. The camera feels like a normal high-end compact camera wrapped in a few millimeters of plastic; it could fit easily in a loose jacket pocket and it's very light compared to other APS-C sensor cameras.
The camera itself does not have the kind of creature comforts you may be used to on cameras with grips. Its body is almost completely without ornament, with only a few raised bumps providing any sort of grip on the camera. It's clear Sigma wanted to keep the body as slim as possible, but a slightly more inventive grip would've gone a long way, as it's precisely the same as previous DP cameras.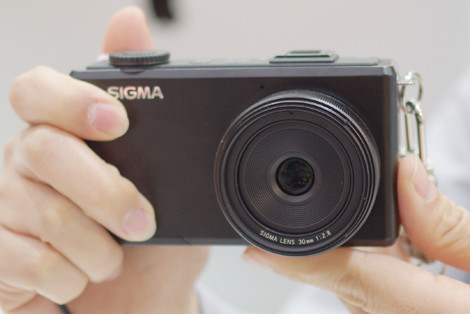 Sections