Samsung WB150F
Samsung has introduced their new WB150F. We find out if image quality could match the feature set.
Samsung WB150F Digital Camera Review
$229.00
Handling
Samsung's commitment to aesthetic appeal means the WB150F has a smooth, attractive chassis, but not a very good one for handling. This is a slippery camera and the minimal thumb rest on the rear panel adds little in the way of traction.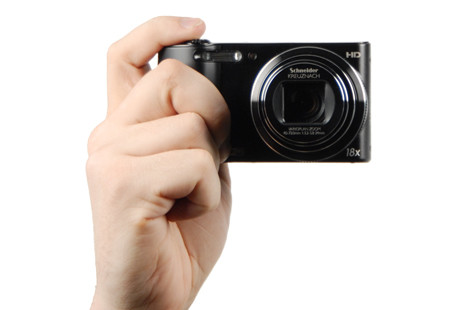 But the WB150F does offer one major ergonomic feature: the large hand grip on the right side. This went a long way to keep the camera under control, and we imagine the camera would be uncomfortably difficult to use without it. We still would've preferred a bit more stick, but at least the camera is usable.
Buttons & Dials
We always prefer hardware mode dials, like the one found on the WB150F, but this particular dial overstays its welcome. In addition to the typical selection of automatic and priority modes, plus a few effects modes and a dedicated video mode, the WB150F has stops on its dial for the main menu, and even a dedicated Wi-Fi mode. There's no reason for extra steps like this, and it slowed down our shooting process considerably, especially while first getting to know the camera.
On the rear panel, buttons are arranged in an entirely typical way: four individual buttons surrounding a directional pad, plus a video hotkey. We like the dedicated back button included in the control scheme, and each button is very clearly labeled.
Display(s)
In the absence of an optical or electronic viewfinder, framing is limited to the 3-inch rear LCD. This is a rather low quality monitor, with a narrow viewing angle and less detail representation than its 460,000-pixel resolution suggests. Lining up a typical portrait of friends will not be a problem, but any sort of creative handling (low angles, overhead shots, etc.) will probably require blind framing.
Image Stabilization
Optical stabilization is a more advanced technology than the digital method often used by small or inexpensive cameras. However the WB150F's optical stabilizer actually worsens sharpness by 18% on average. Therefore we only recommend enabling stabilization for assistance with framing long zoom shots.
Sections