Pentax Q
Pentax's petite interchangeable lens shooter, the Q, has finally made its way through our lab tests.
Pentax Q Mirrorless Digital Camera Review
$799.00
Handling
The Pentax Q is an interesting little camera, emphasis on the little. It's a short stump of a camera, with a body that is fairly thick (before you even add on the lens) but not very tall or wide. It's too thick to slip into most people's pockets, but it's easily the smallest interchangeable lens camera (with the smallest lenses) on the market at this time. It can quite easily fit in the palm of your hand, but does have a slight protrusion on the right of the camera with rubberized material providing excellent grip.
The Q is comprised mainly of a magnesium alloy chassis that provides durability and gives the camera good balance and heft despite its compact size. While we certainly wouldn't recommend it, the camera feels like it could survive a few drops and take some punishment without breaking down. While small, nothing about the Q feels very chintzy or cheap, though its buttons are necessarily shrunk down as well. That will be fine for some users and annoyance to others, but we felt it didn't take long to get used to the layout or the size of the camera.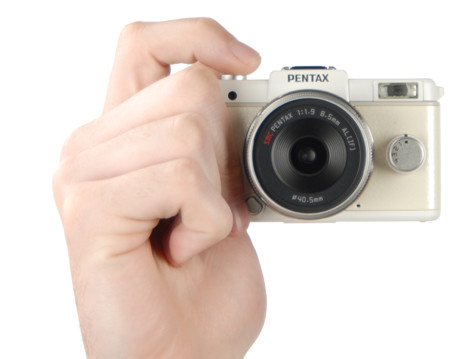 Buttons & Dials
As mentioned above, the buttons and dials on the Q are shrunk down considerably from what you would find on anything but the most compact of cameras. They offer very good haptic response and most give off an audible click when activated. The three analog dials on the camera are all stiff, but have very defined positions so adjustments are only really made deliberately. The quick dial on the front is the most difficult to operate, as it doesn't sit in a position that any of the user's fingers fall on naturally. It provides a measure of customization and control without having to go into the menu, but it's placement and uncertain implementation leave it feeling anything but "quick."
With such a small form factor, there are loads of smart decisions made by Pentax in the design of the Q. The shooting mode dial, for example, provides by far the most resistance of the three analog dials. It's placed, however, right where the index finger naturally falls. Rather than have a thin dial jutting out, this dial is about twice as tall as those found on other cameras. It requires a little extra push to change between positions, but it's height provides enough extra surface area that such an operation isn't difficult when the user wants to deliberately change modes.
Display(s)
The Pentax Q uses a pretty standard 3-inch LCD with 460k dot resolution. The screen does not have touch control but it's clear enough that fine focus judgements are possible. The screen's viewing angle is rated at 170 degrees horizontally and vertically, so while it doesn't articulate, it does allow for viewing even when shooting at odd angles. The screen does get washed out in bright sunlight, however, so that's less of a possibility during the day.
Sections