Olympus XZ-1
Olympus re-enters high-end point-and-shoot market, and their first attempt in about ten years is a home run.
Olympus XZ-1 Digital Camera Review
$499.99
Handling
A lot of smart design went into the Olympus XZ-1 body; the balance, controls, and handling all suggest that designers really went out of their way to create an excellent photographic experience.
The front of the camera lacks any kind of additional grip for the right hand, but we found that the matte finish of the camera made it very easy to hold in one hand without slipping. The camera is fairly substantial (weighing a total of 275g), so it wouldn't hurt to sneak your thumb under the body for extra support. The back of the camera sports a small rubberized grip for your thumb—well-positioned away from the video record button and directional pad.
Of course, the best part of the camera's front design is the control ring that encircles the F1.8 lens. If you're shooting with two hands, we expect that your left hand will often cradle the lens, just as it does when holding an SLR.
We should point out that the camera's weight, while certainly a drawback if you're carrying it in a small purse all day, is what makes the XZ-1 feel substantial. Nothing about this camera feels particularly flimsy (except perhaps the removable lens cap). It's easy to balance and easy to keep steady, but it also feels like your $500 investment will have some longevity to it. No one wants to replace a camera this expensive after one year.
Finally, there's the issue of comfort. We found the XZ-1 quite comfortable to hold in either one hand or two—though some larger hands might be a bit cramped. The camera is just large enough to give you a suitable grip... unlike many point-and-shoot cameras that cramp your hand, gaining portability but sacrificing comfort. The XZ-1 is both portable and comfortable.
Buttons & Dials
The Olympus XZ-1 does some things very well in button and control design. We love the lens ring control, which can be used to adjust exposure in various ways (depending on your selected mode). Interestingly, Olympus chose to make this control heavily incremented, which means you get an excellent tactile response moving from one aperture to the next, but the ring is not appropriate for making smooth adjustments. That means that manual focus is not controlled via the lens ring, but is instead adjusted using the small scroll wheel surrounding the d-pad.
The scroll wheel surrounding the d-pad is well designed, with just enough texture to maintain a good grip, just enough resistance to make precise selections, just enough smoothness to scroll quickly through a menu, and just enough balance to prevent you from accidentally clicking to activate some random option. It was not, however, fun to use for manual focus. We preferred the texture and action on the E-PL2's scroll wheel, but we also found ourselves accidentally activating d-pad options. Maybe there is no such thing as a perfect scroll wheel.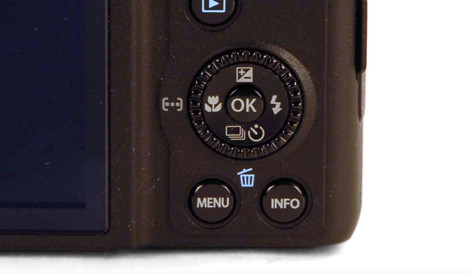 There are only a few other buttons and dials on the XZ-1: the shutter release, mode dial, power button, and a few others. The shutter release was the biggest disappointment here. The flat, brushed metal didn't have great tactile response and made for some uncertainty when it came to autofocus at the halfway point.
The zoom lever is satisfactory, giving decent variable speed control over the 4x optical zoom. The mode dial has good feedback and a great textured gripping surface. The video record button is sufficiently recessed to avoid accidental video recording, while the power, playback, menu, and info buttons are similarly well-positioned.
Menus
The Olympus XZ-1 features a standard tabbed menu, as well as a sort of quick menu, which can be accessed by pressing the OK button during shooting. This quick menu gives the shooter access to commonly used controls like ISO, white balance, and size/quality options. Olympus also calls this menu "live control," because all of these adjustments can be monitored in live view on the OLED display. The menu is full of sensible shortcuts that make your photographic life easier, and it's very easy to navigate using a combination of scroll wheel and d-pad controls.
The back of the XZ-1 boasts a simple Menu button for accessing the camera's standard menus. These are fairly straightforward, with tabs for camera settings, video settings, playback, and setup. Some of these tabs have more than one page, but it's still pretty easy to find what you want. Every once in a while, we would find ourselves searching through the menu with futility, only to discover our desired option was sitting in plain sight on the d-pad or the quick menu... such is the danger of a system that employs multiple menus. Virtually every option is located only in a single location; at times that location isn't always obvious.
Manual & Learning
The XZ-1 ships with a typical Quick Start Guide, which gives you just the bare bones basics of operating the camera. The more in-depth instruction manual is available on the Olympus website. This gives a more robust look at each individual camera option.
We found that even after scouring the manual there were a couple of features that remained mysterious, but these were all features that most people are probably okay skimming over. The manual will certainly give you explanations of all the XZ-1 features, but it won't necessarily tell you how best to utilize these features and it certainly won't make you a better photographer.
If you aren't the kind of person that uses instruction manuals, some of the camera's functions are explained briefly within the menus.
Sections