Olympus VR-320
A budget camera with a 12.5x optical zoom lens, 720p HD video, and 14-megapixel still capability.
Olympus VR-320 First Impressions Review
$199.99
Manual Controls
The VR-320 is low on manual controls. You can set exposure and ISO manually, but focus, shutter speed, and aperture can't be adjusted. The various scene modes on the camera do allow for things like slow shutter speeds, but they never give you direct manual control over such a feature. But this is part of the allure of the VR-320. It is a camera for people who don't care about or don't need access to a lot of manual controls.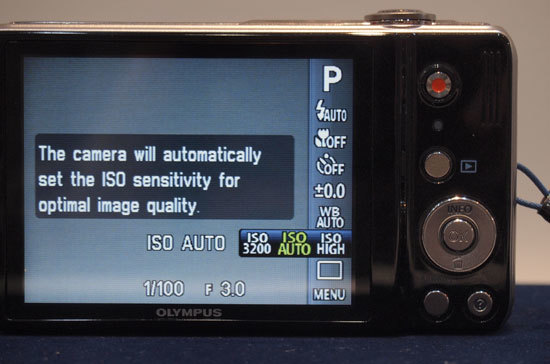 Focus
As we said above, focus cannot be set manually on the VR-320. You can use a couple of different autofocus modes, though, including Spot AF and AF Tracking. These autofocus modes also work in conjunction with face detection on the camera to provide you with a smooth, automated focusing experience.
ISO
ISO is one of the few controls that can be set manually on the VR-320. The ISO options are 100, 200, 400, 800, and 1600. You can also set ISO control to auto or high auto (which uses ISO values on the higher end of the scale).
Aperture & Shutter Speed
The aperture range on the camera is f/3 to f/5.9, while the shutter speed range is 1/2 a second to 1/2000 of a second. Neither can be set manually on the VR-320, but certain scene modes will use different aperture values or shutter speeds. Candle Scene mode actually allows the camera to use shutter speeds as slow as 4 seconds.
White Balance
We told you the VR-320 was lacking in manual controls, and we weren't kidding. If you actually took what we said seriously, then you probably won't be surprised to hear that the camera doesn't have a manual white balance mode. We're actually kind of shocked at this omission because usually even simple cameras allow for manual control of white balance. Not the Olympus VR-320, though. It only has an auto white balance and six preset modes: Daylight, Overcast, Tungsten, and three Fluorescent settings.
Exposure & Metering
Exposure can be set manually on the Olympus VR-320, but the range is only from -2 to +2 in 1/3 EV steps. There are two metering modes on the camera as well—Digital ESP metering and Face Detection auto exposure. We're not exactly sure what the "ESP" stands for in Digital ESP, but we hope it stands for Extra Sensory Perception... which implies that the VR-320 may be clairvoyant.
Image Stabilization
Olympus uses a dual image stabilization system on the VR-320 that incorporates sensor-shift technology. Officially, the system isn't considered an optical technology, but it shouldn't result in image degradation like digital stabilization often does.
Picture Quality & Size Options
The largest size option on the VR-320 is its 14-megapixel, 4288 x 3216 setting. There are also size options for 8, 5, 3, 2, and 1 megapixels images, as well as a VGA (649 x 480) setting. The camera's one 16:9 aspect ratio option lets you take a 4288 x 2416 image. This isn't a very extensive set of size options, but it should be fine for most casual photographers.
Picture Effects
If you put the camera into Magic Mode you'll find a lot of silly—and sometimes amusing—digital effects. Some, like Pop Art and Pinhole, are similar to what Olympus includes on its interchangeable lens PEN cameras (like the E-PL2). Other effects include Fisheye, Drawing, Soft Focus, Punk, and Sparkle. We didn't get to see the Punk mode in action, but we're hoping it adds Mohawks and/or leather jackets to your images.
Sections