Olympus SZ-31MR iHS
Olympus' new travel-zoom is feature-rich and a lot of fun but sacrifices image quality for zoom.
Olympus SZ-31MR iHS Digital Camera Review
$399.99
Handling
There are no rubberized surfaces on the front panel, but that doesn't matter since the large right hand grip provides plenty of stability. The body is very comfortable and will aid in precision framing at full zoom.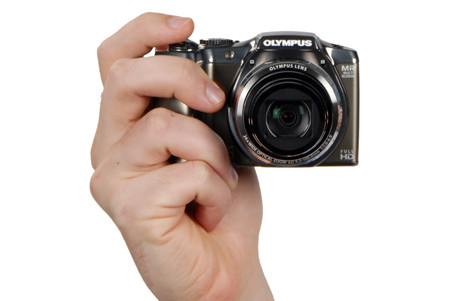 On the rear, there's one major issue that we've already mentioned to some degree. Although a convenient rubber thumb rest is ideally placed in the top right corner, the video button is right in the middle of it. It's almost impossible to pick up the SZ-31 without striking this button. After a few accidentally recorded clips, you'll find yourself entirely avoiding this area of the body, often at the expense of stability and comfort.
Buttons & Dials
Olympus adjusted the button layout from the SZ-30's, but this has not been a change for the better. On top, the power button has found its way to an even less convenient position, and is now indented into the frame, requiring that little bit of extra effort to turn the camera on or off. The mode dial is smaller than full size, but has weak resistance, and rotates easily in a bag or pocket.
We do appreciate the simplified control scheme on the rear panel, which features a dual-function rotating dial / directional pad. However the video record button has been repositioned to the other side. That's right, directly on top of the thumb rest. It's flush with the rubber too, so you'll find yourself accidentally recording videos of your feet with regularity.
Display(s)
Olympus upgraded to a touchscreen for this model, and the implementation is exactly what we like to see. Too often, whole interfaces are built around a touchscreen, and this leads to imprecise, slow control. The SZ-31 makes few changes to the SZ-30's interface, but simply includes the touchscreen for optional functionality like touch shutter, touch focus, etc. Other manufacturers take note, this is the way to integrate a touchscreen.
Our only gripe is the screen's sensitivity, which is too low. On rare occasions that we did decide to take advantage of the panel, we usually had to make two or three attempts before getting the reaction we were expecting.
Image Stabilization
We could detect no improvement to sharpness while using the SZ-31's sensor shift image stabilization system. In fact, detail actually fell by 1.5%. Since we don't give negative scores, this metric is stuck at zero. Our current test uses repetitious horizontal motion to measure shake reduction, so it's possible your real world results will vary from our controlled environment.
Sections