Nikon D800
We go hands-on and in-depth with Nikon's 36.3-megapixel monster at CP+ in Japan.
Nikon D800 First Impressions Review
$2,999.95
Better than
90%
of Reviewed Digital Cameras
Design & Appearance
Looking at the Nikon D700 and D800 side-by-side, it's clear just how far the company's DSLR body design have come in a little more than three years. The D800 features a vastly improved grip, with a more ergonomic shape to its top plate. The camera's button layout has not undergone massive changes, though, with the differences mostly relegated to adjustments for ergonomics and aesthetic design.
The D800 features a rear 3.2-inch LCD with playback and navigation buttons along its left side. The center of the camera is occupied with the camera's optical viewfinder, while to the right of the screen is the flat directional pad for scrolling through the menu. The top of the camera houses the secondary LCD, with the mode button, on/off switch, and shutter release. The left side of the top plate includes the shutter drive/release mode dial, with WB/ISO/bracket adjustment buttons on top of that, where you might expect to see a mode dial.
The front of the D800 includes a couple programmable function buttons, along with the autofocus mode switch located just below the lens where your left hand lays along the camera's lens. The most noticeable update from the D700 to the D800 is the grip, which is now much more comfortable to hold, as it is set further into the body, with an indentation for the index finger to better rest on.
Tour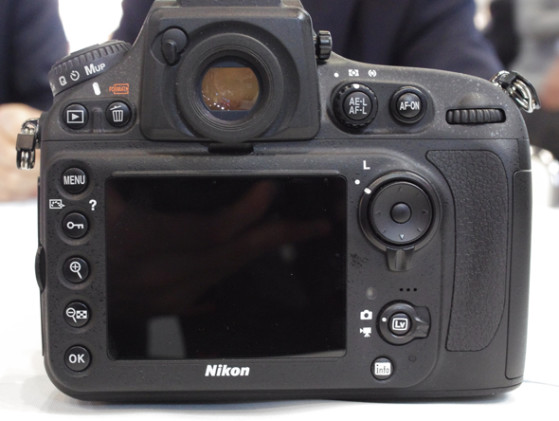 Sections