Fujifilm X-S1
Fuji attempts to build a true bridge camera.
Fujifilm X-S1 First Impressions Review
$799.95
Better than
80%
of Reviewed Digital Cameras
Focus
The X-S1 uses 49-area, contrast-detection autofocus. Single and continuous AF are supported, and multi-area, spot, and tracking frame areas are available. Super macro mode can focus from as close as 1cm.
Manual focus is also an option. MF is usually tricky on fixed-lens cameras with modest sensors, but the X-S1 is pretty well-suited for the job. The electronic viewfinder is actually high-res enough to see the details in the subject, which is more than we can say for most EVFs. The lens ring is smooth too. If all else fails, there's a snap-to-AF option available as well.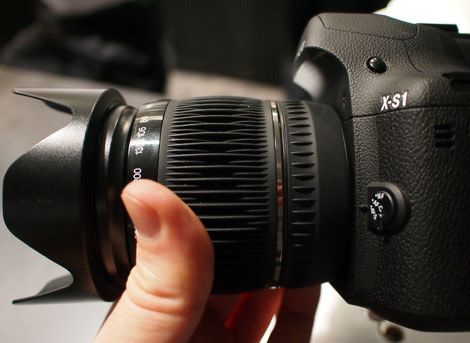 Exposure & Metering
In terms of manual control, the X-S1 offers the works. Aperture, shutter speed, and just about every other important setting is user-adjustable.
The aperture range runs from f/2.8-11, and the shutter speed ranges from 1/4000 all the way down to 30 seconds. Multi-pattern, center-weighted, and spot metering are all available. EV compensation runs in steps of 1/3 from -2 to +2 EV. Dynamic range compensation is adjustable too.
ISO
Full resolution ISO settings stretch from 100 up to 3200, hitting the usual full stops (ISO 200, 400, 800, 1600) as well as partial stops (ISO 250, 320, 500, 640, and so on) along the way. Added control like that is uncommon for most fixed-lens cameras, but we've seen it on every other X-series camera so far, and it makes sense on an enthusiast-oriented model like the X-S1.
Some additional ISO settings are available, but at reduced resolutions. ISO 4000, 5000, and 6400 are accessible at the medium resolution setting, and ISO 12800 can be reached at the smallest picture size.
White Balance
There's a direct-access key for white balance in the left-hand button column. Most of the preset options are pretty standard, including an auto mode, Shade, Incandescent Light, and three fluorescent settings. Custom white balance is available, as is a color temperature selection.
Image Stabilization
As any superzoom should be, the X-S1 has lens-shift optical image stabilization. It seemed reasonably effective on the CES showroom floor, but we did get a few blurry shots in the bunch, which is inevitable with such a long telephoto range.
Picture Effects
Aside from the Film Simulation color modes—Provia (standard), Velvia (vivid), Astia (soft), monochrome and sepia—the X-S1 has no picture effects, including goofy effects or fun filters.
Sections