Fujifilm X-S1
The X-S1 brings DSLR feel to the superzoom class with an excellent build and user experience.
Fujifilm X-S1 Digital Camera Review
$799.95
Better than
80%
of Reviewed Digital Cameras
Handling
The X-S1 is the size of a mid-range DSLR, like the Nikon D5100 or Canon T3i. It's notably bigger than any other superzoom, including Fujifilm's own HS-series models, which are already big by bridge-cam standards. No surprise, the X-S1 is also in the same weight class as those mid-level DSLRs. Bridge cameras are usually light enough for single-mitt gripping, but not the X-S1. We could grip it with one hand for short periods of time, but the weight always put strain on our wrists after more than a minute or so.
A better bet is to attach the neck strap (it's way too big for any pocket or purse anyway) and grip it with two hands: It handles as naturally as a DSLR. The contours are cozy, and the buttons are well-placed. The extra size really makes it much more comfortable to handle than a typical superzoom, too.
The body is covered in a rubber coating that's deceptively soft and easy to grip. The manual twist-barrel zoom mechanism is exceptionally smooth and nicely weighted, with consistent resistance throughout the focal range. Fuji apparently used some of the same construction techniques as they do on their broadcast-quality lenses. The mode dial and command dial are both metal, with a nice weight and resistance. Some of the buttons are a bit clacky, and others a bit soft, but those are the only weak spots on an otherwise well-built camera with fantastic handling.
Buttons & Dials
The X-S1 has an excellent control scheme. The layout feels as natural as a DSLR, with plenty of dedicated and direct-access controls, as well as two assignable function (Fn) keys.
Just about all of the most commonly adjusted shooting options have a dedicated key: ISO, white balance, metering, autofocus, EV compensation, burst mode, self-time, flash, movie mode, RAW, EVF/LCD toggle, AF/AE lock, playback, and macro mode. There's a focus-mode switch on the front panel as well, which makes it very convenient to switch modes. It's great for hands-on shooters. Auto-shooters can just flip the mode dial to Auto or EXR and ignore everything else, but that's wasting the potential.
The quality of the buttons could be better. The metal dials are great, but some buttons are soft and others too plasticky. They're small, too, which makes them a harder to find by touch than they should be.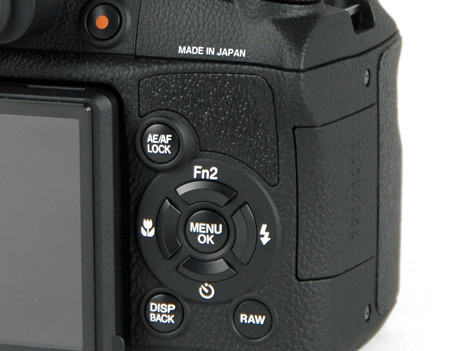 Display(s)
The 3-inch, 460,000-pixel, tilting LCD on the X-S1 is pretty typical of the superzoom class. The size is ample, the resolution is decent, and the hinge helps with high- and low-angle photos and videos. Direct sunlight mostly washes out the screen, but with the Monitor Sunlight Mode activated and brightness boosted all the way, it's somewhat visible—even so, it's probably better to use the EVF when possible. We'd love to see a fully articulating screen like the Panasonic FZ150 offers, but we don't have much to complain about here.
Viewfinder
The X-S1 comes equipped with a great electronic eye-level viewfinder. At 1.44 million pixels, the resolution is much higher than we see from the cut-rate EVFs on most superzooms, and approaching the greatness of the EVFs on Sony's Alpha SLT models. It's bright, responsive, and sharp enough to actually use for manual focus. At 0.47 inches, it's reasonably large, and although the plastic eyepiece is shallow and pretty hard, overall the EVF is comfortably to shoot with. It's also equipped with an eye-level sensor and a diopter adjustment dial (-5 to +3), tucked awkwardly behind the eyepiece.
Image Stabilization
Any camera with a 26x zoom lens had better have a strong stabilizer, and the X-S1 does. The X-S1 already has two design elements working in its favor: a huge grip, and an eye-level finder, both of which make it easier to hold a camera steady. Beyond that, the optical stabilization is very effective. We measured a 64.3 percent improvement in stabilization at the telephoto setting with stabilization activated. The difference is visible even in the viewfinder—little shakes don't appear on-screen when IS is turned on.
Sections