Canon Rebel T1i Digital Camera Review
$799.99
Handling
The handling of the T1i is very similar to that of the other Rebel models, like the XS and XSi. The weight feels slightly more evenly distributed, and the grip a tiny bit bigger, but barely. The button layout is identical to models past, and this camera is definitely on the light side of things. This makes it a breeze to carry, but at the same time it lacks the solidity of a weightier body. Whether this is a good or bad thing is a matter of personal preference, and some people like the lightness of this sort of camera. We prefer one that has a bit more heft, as a camera as light as this can feel unstable due to its low weight.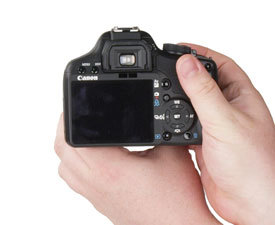 Buttons & Dials
For those familiar with last year's Rebel XS, the Rebel T1i's button layout will hold few surprises. It's practically identical, with a single control wheel and most buttons serving double duty.
Display(s)
The T1i uses a 920,000-dot, three inch LCD, which offers excellent sharpness for playback, and makes manually focusing in Live View easier. Nikon's comparable model, the D5000, instead has a lower-resolution LCD (only 230,000-dots) but it is articulated, which means it can be folded out and viewed at different angles.
By pressing the Set button, the T1i launches into a quick menu, which lets you alter common settings very quickly. The quick menu has a small quirk where if the possible options for a setting extend over more than two rows, you can only use left and right on the four way controller to chose which one you want, but not up and down. So when you open the Picture Style list from the Quick Menu, there are two rows of choices, and you have to keep pressing right at the end of a row to get down to the next one, rather than being able to use up and down.
The LCD can be set to seven brightness levels, and the Quick Menu can be set to one of four color schemes: black on grey, white on brown, white on black or a rather hideous green on black.
Viewfinder
TheT1i viewfinder offers 95% field of view at 0.87x magnification and a diopter range of -3 to +1 m-1. A nice touch on the viewfinder is the small proximity sensor placed right beneath it, which turns off the LCD as you put your face up to the camera.
The T1i comes with a eyecup cover attached to the neck-strap, which is used to cover the viewfinder to prevent light leaks during tripod photography. It's nice that they include this on an entry-level model, but you have to remove the eye-cup to use the cover, which is a pain to remove, and it's something you want to avoid doing frequently.
Image Stabilization
The T1i uses lens-based image stabilization, and shooting with the 18-55mm kit lens, we experienced mixed results. When it improved the resolution of captured photos it did so quite well, but is was a bit of a crapshoot as to when it that improvement would take place. Also, the T1i's overall sharpness problem meant that a relatively minor improvement resulting from image stabilization could be interpreted as a significant percentage improvement in our testing.
To test the capabilities of the image stabilization system, we shoot a slanted-line target at a number of shutter speeds, with Image Stabilization on and off, testing separately for horizontal and vertical stabilization. Our specially designed rig has two levels of vibration, a high shake setting that approximates the shake you'd find when shooting with one hand or when moving, and the low shake setting that's close to what you would experience when standing still and holding the camera securely.
Sections