Canon PowerShot S100
Improves on the S95 and takes its place at the top of the point-and-shoot food chain.
Canon PowerShot S100 Digital Camera Review
$429.99
Shooting Modes
Like the S95 before and many high-end compacts since, the S100 offers full "PASM" shooting, consisting of Program Auto, Aperture Priority, Shutter Priority, and Manual shooting modes. A fully customizable mode also has a home on the dial, as well as High Dynamic Range mode, Scene mode, a dedicated video mode, and a fully automatic mode.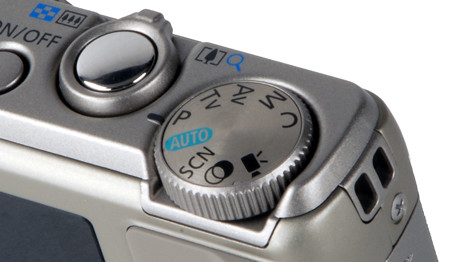 Scene Modes
13 scene modes are available and few of them diverge from what is typical. Beach, Snow, Foliage, and the rest of the old favorites are there. A high speed full resolution burst mode is also hidden in the scene modes menu, and it's probably the most useful of the bunch.
Picture Effects
This serious shooting camera is not equipped with any picture effects like Miniature or Magic Frame. We don't miss them, and we doubt the target audience will either.
Manual Controls
The most useful manual control feature is of course the large control ring surrounding the lens. The ring is fully customizable, and may be assigned to variables like ISO, optical zoom, manual focus, etc. SLR users will love the extra control, while beginners may ignore the feature without consequence.
Drive/Burst Mode
The S100 is capable of advanced drive mode shooting, however the fastest full resolution burst setting is hidden away as a scene mode. Continuous shooting, without the storage limitations of burst, is available from a setting in the quick menu. The self-timer features 10 second and 2 second countdowns, as well as a fully customizable setting, which we love.
Shot to Shot ()
The High-speed Burst HQ scene mode captures full resolution shots at just over 8.5 frames per second, but the buffer maxes out after 8 shots. Continuous shooting is unlimited, but capture speed drops to 2.18 frames per second. RAW continuous shooting is also available, however this further limits speed to only 0.95 frames per second.
Sections