Canon PowerShot G15
A beautifully built camera whose superb lens and workhorse sensor provide excellent image quality.
Canon PowerShot G15 Digital Camera Review
$499.99
Better than
97%
of Reviewed Digital Cameras
Handling
When you come right down to it, the truth is that most compact cameras handle badly. They're made to be as small as possible, not to fit your hand. So when we talk about handling, we grade on a curve. The best-handling compact cameras rarely approach the worst-handling DSLRs (or even the worst superzooms), but we don't expect them to. Their goals are simply different.
The PowerShot G15 can't quite break out of this paradigm, but it does a remarkable job within the constraints of its class. We harshed it pretty badly in our First Impressions Review at Photokina 2012, but given more time to play with our review unit, our concerns fell away one by one, until there was really just one left. But we'll get to that later.
The first thing you'll notice when you pick up the G15 is its heft: it's not big, exactly, or really heavy, but it has a pleasing density and a general feeling of substance that you rarely get from a compact camera. The textured front and rear grips are just grippy enough, and even the coating on the body itself has a decent amount of traction.
The G15 isn't exactly pocketable, at least not in a pants pocket, but we carried it in our jacket pockets without much concern during our testing. With the lens retracted, it clocks in at just over 1.5 inches thick. While this limits its pocketability, it pretty much equally improves its handling. The thicker (but not thick) body is easier to grip and fits more naturally between your thumb and index finger than many slimmer models.
Button placement is generally excellent. The cleverly stacked shooting mode and EV compensation dials on the top plate are perfectly positioned to be adjusted with your index finger and thumb, respectively. The shutter release is lovely, with a pillowy half-press before the firm click of the full-press, though the zoom ring encircling it is insubstantial and doesn't offer fine enough adjustment for our tastes. The rest of the buttons are wonderfully tactile. The rear command dial's placement is a minor concern—it makes it nearly impossible to turn without using two hands, and the left button is too close to the raised edge of the screen—but it's something we adjusted to.
What we weren't able to adjust to was the front command dial's awkward location. Placed up against the extreme right edge of the body, it requires you to bend your index finger at a pretty unnatural angle to use it. Alternatively, you can again use two hands to give yourself better leverage, but that pretty much defeats the purpose of a quick adjustment dial. We also felt the dial was too recessed, and the actual action of turning it felt somehow off to us. In total, it's a weird aberration that nearly ruins an otherwise excellent ergonomic design.
Buttons & Dials
A wealth of direct control options sets the G15 apart from many of its peers. The rear panel has a familiar control scheme, with Canon's standard four-way controller, rotating command dial, and central FUNC/SET button. Each of the four directional controls also offers direct access to a vital shooting function; from the top and going counterclockwise, these are ISO, focusing distance, display options, and flash settings. There are four more buttons surrounding this cluster, including focus point selection, AE/FE lock, metering mode, and main menu access.
Toward the top edge of the rear panel you'll also find a dedicated movie recording button, the playback mode toggle, a viewfinder diopter dial, and a user-customizable Shortcut key. This last can be set to access one of 14 different shooting settings: i-Contrast, White Balance, Custom White Balance 1 & 2, My Colors, Drive Mode, Self-Timer, Neutral Density Filter, Aspect Ratio, File Format, Servo AF, AF Lock, Digital Tele-converter, and Display Off.
The top panel is similarly feature-rich. As usual, there's the shutter release, surrounded by the zoom ring. Just behind this combo is the power toggle, which is a button here rather than a switch, as on many other cameras. To the left of these are two large dials. One selects your shooting mode, while the other is dedicated to exposure compensation. The EV compensation dial in particular is a touch that many manual shooting enthusiasts will be overjoyed to see included. Up front is the primary control dial, which can be customized (as can the rear ring dial) for each shooting mode. While we were sad to see the PowerShot G12's dedicated ISO ring go, the new top plate arrangement is a definite improvement ergonomically, and the ISO setting has a dedicated button on the rear of the camera.
On the other side of the flash hot shoe is a manual flash release slider. The only other button is the ring release button, below and to the left of the lens housing, which allows you to unscrew the beveled ring surrounding the lens. Once it's removed, Canon's accessory converter lenses can be installed.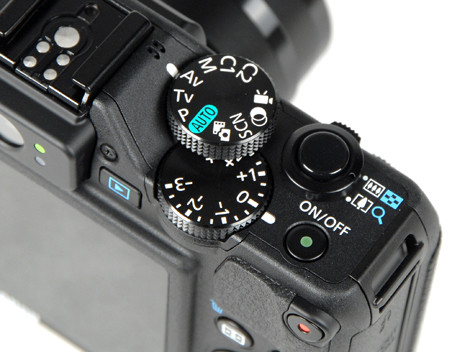 Display(s)
The fixed 3-inch rear LCD is certain to be one of the most contentious features of the new G15. The G-series has, in part, been defined by an on again, off again love affair with articulating screens. Way back in 2000, the G1 kicked things off with a stunning-for-the-era 1.8-inch flip 'n' swivel screen. This remained the status quo up through the G6, which made the jump to a 2-inch unit. But then came the dark years. The G7 through G10 all had fixed screens, but public outcry was so great that Canon flip-flopped again and graced the G11 and G12 with beautiful 3-inch articulating panels.
So, is it any surprise that Canon's designers have changed their minds once more and opted for a fixed screen on the G15? The new panel bumps the resolution up to 922,000-dot resolution, which is certainly nice, but the PR department's suggestion that the fixed screen was chosen to reduce the camera's overall weight and bulk seems like a bit of misdirection to us. First off, articulating screens don't really add that much depth or weight, and second, the G15 is not exactly a pocketable camera anyway.
Sections