Canon EOS 7D Digital Camera Review
$1,699.99
Lens & Sensor
The 7D packs a lot of megapixels into a APS-C format sensor. The gross resolution is approximately 19.0 megapixels, the effective resolution 18.0 megapixels. Despite the high pixel density, our lab testing gave the camera high marks. Even image noise, the likely downfall of a camera that tries achieve high resolutions in a small form factor, was acceptable, and very good under low light.
By default, the camera triggers its vibrating dust removal operation automatically when you turn the camera on or off, though this can be disabled, and you can clean the sensor when you choose via the menu system. For stubborn dust problems you can also capture dust delete data to be used with the included Digital Photo Professional software.
Viewfinder
The eye-level pentaprism viewfinder provides approximately 100% coverage. There's some clipping of the bottom information display edges for eyeglass wearers, but the image is very bright and sharp. There is a diopter control with a -3.0 - +1.0 m-1 range, and a fixed focusing screen.
Canon debuts its 'Intelligent Viewfinder' technology with the 7D, with a sophisticated overlay system that clearly shows focus points, a spot metering circle and optional grid lines. We found the grid lines very useful, and left them on throughout our test shooting. They're fine enough to be unobtrusive, and positioned well for lining up horizontals and verticals accurately.
Removing the eyecup is unusually easy: press the two clips on either side and lift up. This is handy when you're shooting on a tripod and want to use the included eyepiece cover to keep light from leaking in from behind and affecting the exposure.
Display(s)
The LCD is Canon's good-looking 3-inch 920,000-dot display, It's a pleasure to use for reviewing your shots, with accurate color and pleasing image sharpness. If you're seized with the desire to shoot in Live View mode outdoors, you'll find the LCD brightness adequate, though there is a lot of glare in sunny shooting situations.
There are two ways to set LCD brightness. There is an Auto setting (using a light sensor to the right of the screen), which can be set to three brightness levels and will make adjustments accordingly. Alternatively, the brightness can be manually adjusted to one of seven settings.
Secondary Display
For $1700 you're entitled to a monochrome LCD on top of the camera, and Canon comes through with a legible display that covers all the basic shooting settings at a glance. The ability to illuminate this screen for a few seconds by pressing an easy-to-find button is highly appreciated.
Flash
The built-in flash has an effective range of about 12 feet (3.5m) when shooting at ISO 100 and f/3.5. It stands a good four inches from the center of the lens, and produces a nice, even illumination pattern. With no dedicated autofocus assist lamp, the flash is pressed into service for this function too, firing off strobe bursts that are far more intrusive than an AF assist lamp would be, calling attention to the photographer who was hoping to grab a candid shot.
Flash exposure compensation is available in a ±3 stop range, in 1/3 stop increments. Flash exposure lock is also supported.
When shooting in full auto mode, the flash will pop up and fire when needed, with no user control. In Creative Auto mode, the user can turn the flash off if desired.
The 7D provides full support for Canon EX-series Speedlites, including manual flash output setting, high-speed sync and wireless flash control. There is also a PC terminal for connecting flash units with a sync cord.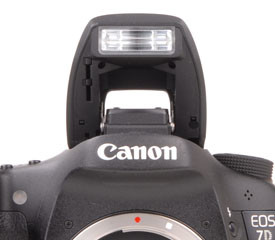 Connectivity
The panoply of 7D connectivity is grouped on the left side of the camera, under two separate, tight-fitting rubber doors.
On the left side are two round ports. The top is used to connect external flash units via PC sync cable. The bottom accepts the optional Remote Switch (RS-80N3), Timer Remote Controller (TC-80N3) or other accessories with an N3 terminal.
On the bottom of the camera is an extension system terminal for connecting to the optional Wireless File Transmitter (WFT-E5A/B/C/D).
On the right side are an external mic jack, an industry-standard mini-USB connector (for data and standard-def video connections, via the included cables) and finally a mini HDMI jack for direct connection a high-def TV (cable not included).
Battery
The camera is powered by an LP-E6 rechargeable Lithium ion battery rated at 7.2 V, with an 1800 mAh capacity. Canon estimates a charge will last 1000 shots without flash, or 800 with flashed used 50% of the time. We were impressed with the 7D battery life. During day-long testing sessions, involving thousands of shots, we rarely had to stop to top off the charge. Of course, shooting in Live View is another matter, with Canon's estimated life dropping to 230 shots without flash per charge.
An accessory battery grip, the BG-E7 ($270), which can hold two LP-E6 batteries or six AA alkalines, is available. With LP-E6s installed the battery life is doubled (logically enough) while AAs will provide 400 shots without flash, 300 with.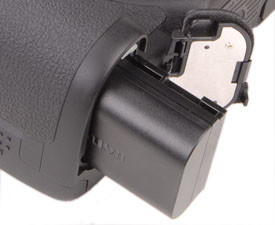 Memory
Ah, the joys of CompactFlash, offering huge capacity at reasonable prices. One caveat: if you're planning to shoot high-resolution video and/or use burst mode, the extra investment in a fast UDMA mode card is worthwhile.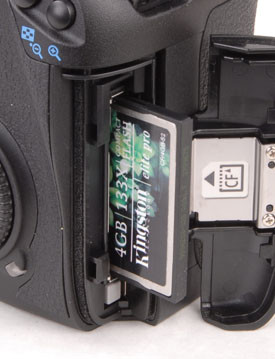 Sections