Easiest Cameras
Introduction
There's probably no worse feeling than getting someone a brand new camera, watching them open the box, then fumble around with no idea how to work the stupid thing. Ease of use isn't guaranteed, even among affordable point-and-shoots.
Cameras designers are always trying to simplify the user experience, with "smart" auto modes, green buttons, and in-camera guides. Here are some of the most intuitive, easy-to-use cameras that we've come across lately.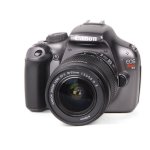 Canon EOS Rebel T3
Buy now for $349.00 at Amazon
How does this work?
Reviewed.com offers the ability to purchase products through our affiliate programs with retail partners. While we earn a small percentage of the sale, make no mistake that our ethics policy is strongly enforced here, too. You can buy products that have received both positive and negative reviews, because we realize that there's a right product for everyone.
Be in the know! Get Reviewed.com news and reviews straight to your inbox.
Thanks for signing up!
How We Test Cameras